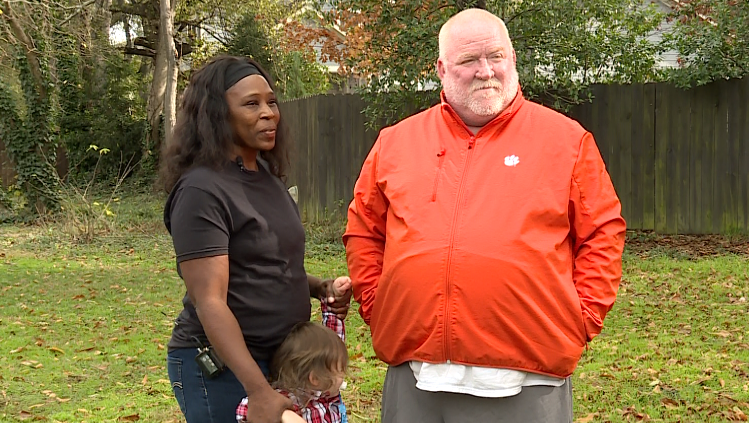 The Martins are not your typical love story. When they met, Cassandra and her children had spent a year in a shelter. Redd had been homeless for nearly 18 years. He was then working in a sports memorabilia store. "And the most beautiful woman I've ever met in my life walked through the door," Martin said. "We became best friends, and it's been history ever since." Together they overcame Redd's substance abuse disorder, and later they married. reason we are here," Redd said. "It's also by the grace of God," Cassandra continued. Now they're hosting Sunday dinner with a twist. The non-profit organization is dedicated to feeding homeless men and women in Greenville, distributing food on street corners, in the woods and under bridges. Three years ago, a visit changed their lives forever. The Martins fed a woman under a bridge in Cherrydale when they learned she was five months pregnant. They took care of her until she gave birth to a beautiful baby boy named Sam. "That could have been my child," Cassandra said as she held the two-year-old baby. "I couldn't leave her there. So, we had to do something." Instead of being placed in a foster home, the Martins stepped in. They have since raised him, taking him to dinner on Sundays and providing sleeping bags and weekly snacks. For Sunday Dinner with a Twist, feeding the homeless is only half the goal. "You just give them some hope that someone cares about them," Redd said. "And they understand what they're going through and that they love them." The Martins are a family from difficult circumstances, and as they continue to give, their family continues to grow. "These are people who actually do something, you know what I mean, in the community," said Karen Holmes. Holmes has been homeless for nine years and dependent on Sunday dinners. "Once I'm ready to go, I'm going to give back, because these are really helping people."
GREENVILLE COUNTY, South Carolina —
The Martins are not your typical love story.
When they met, Cassandra and her children had spent a year in a shelter. Redd had been homeless for nearly 18 years. He was then working in a sports memorabilia store.
"And the most beautiful woman I've ever met in my life walked through the door," Martin said. "We became best friends, and it's been history ever since."
Together they worked on Redd's alcoholism and drug addiction disorder, and later they were married.
"If it wasn't for her, I wouldn't be here. That's the only reason we're here," Redd said. "It's also by the grace of God," Cassandra continued.
Now they are hosting Sunday Dinner with a Twist. The non-profit organization is dedicated to feeding homeless men and women in Greenville, distributing food on street corners, in the woods and under bridges.
Three years ago, a visit changed their lives forever. The Martins fed a woman under a bridge in Cherrydale when they learned she was five months pregnant. They took care of her until she gave birth to a beautiful baby boy named Sam.
"That could have been my child," Cassandra said as she held the now two-year-old. "I couldn't leave her there. So, we had to do something."
Instead of being placed in a foster home, the Martins stepped in. They have since raised him, taking him to dinner on Sundays and providing sleeping bags and weekly snacks.
For Sunday Dinner with a Twist, feeding the homeless is only half the goal.
"You just give them some hope that someone cares about them," Redd said. "And they understand what they're going through and that they love them."
The Martins are a family that came from difficult circumstances, and as they continue to give, their family continues to grow.
"These are people who actually do something, you know what I mean, in the community," said Karen Holmes. Holmes has been homeless for nine years and dependent on Sunday dinners. "Once I'm ready to go, I'm going to give back, because these are really helping people."