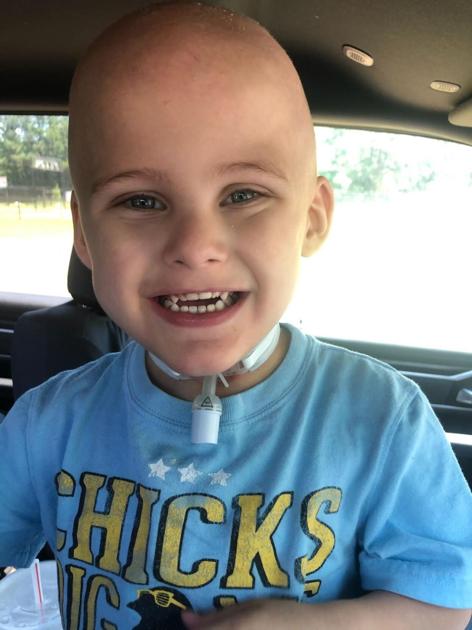 Tucker Knight spent most of his young life in and out of hospitals, but that doesn't stop the 3-year-old from watching his family sideways when they drive him crazy.
Tucker loves tractors and farm animals, Thomas loves trains and all kinds of trains, and taking his John Deere drive wheel to the yard, his father Mathias Knight said. He also enjoys taking the golf cart to visit the local animals behind the homes of their neighbors, Paul and Belinda Highland.
"Tucker has had a tough road since day one," Knight said. "He was born early at 25 weeks and three days – 1 pound and 13 ounces. As you can imagine, we have faced many medical issues throughout this time. "
He returned home on a ventilator and has since had a tracheostomy. His aunt, Leah Fenley Adrian, said that sometimes when he was frustrated trying to communicate with his family, he put a finger down the tube so he could quickly say what he wanted to say.
He has three older siblings, PJ and McKenna, who are 14, and Hailey, who is 12.
"He loves the way his dad and Bubba play hard with him and he loves to harass girls," Knight said.
Sadly, Tucker's struggles did not end with the tracheostomy. He had started to get excited about the possibility of the device being removed when he was diagnosed with a rare form of liver cancer called hepatoblastoma, Adrian said.
Christie Hughes, the nurse who helps the family take care of Tucker because he was so premature, found a lump in his stomach after a day complaining about something that was hurting him. She also noticed that he was not the same – he was lethargic, Adrian said.
"She and her husband, Doug, they're more like family," Adrian said. "She spends as much time if not more than anyone else with him."
Hughes encouraged the family to get Tucker checked out and set up dates. They had the diagnosis within a week, and it was the speed at which they diagnosed the problem that saved his life, Adrian said.
"(Doctors) think there's a connection with men who are premature," she said.
A report by several authors published in the "Journal of Pediatric Rehabilitation Medicine" suggests that the risk of these tumors is rare but greatly increased if the child was premature and born with a very low birth weight.
"The chemotherapy treatments were pretty tough at times, but I want to stress how tough our little man is, and he faced it all head on and got away with it," Knight said.
The whole situation was difficult for the family, Adrian said. The first chemotherapy session really knocked him down.
"He just wasn't feeling good, and Mathias and I were FaceTiming because he loves Facetime, and Tucker doesn't do well when he sees other people cry – like, it really affects him," said Adrian. "So Mathias was trying to be real strong and not cry. Everyone's scared because you know this little boy's been through so much already, and now he's got this cancer, and they don't know it.
It's every parent's worst fear, she said. As Knight began to cry, Tucker began to cry. And while Tucker can cry, with his tracheostomy, he doesn't really make a sound. So it was a tough time for the family, she said.
"It was one of the most heartbreaking things I have ever seen or experienced," she said.
There have been plenty of times the family has struggled to feed Tucker, Adrian said. So when he had an appetite, he could have whatever he wanted.
At one point in the summer, Adrian came from San Marcos to visit him and Tucker's mother Chelsea had given him dessert. He said cake, but Chelsea tried to get him to say another option if the hospital didn't have one.
"She said, 'Okay, if they don't have a cake, what do you want?' and he said the word "cake". And she said, 'I know Tucker, I know, but if they don't have it, what do you want?' And Tucker plugged in his windpipe and he said 'cake', "Adrian said with a laugh.
Tucker is still one of the cutest little boys, Knight said.
"Tucker has the most generous, generous personality you can imagine," he said. "Even when he gets his meds (which can be scary and sometimes painful), he always says goodbye to the nurses and waves to them when they leave the room.
He gave one of his toys, a little stuffed kangaroo, to a nurse after she said she loved animals.
The hepatoblastoma caused a tumor to grow in his liver, forcing Tucker to undergo a liver transplant. Fortunately, a liver was made available, Adrian said.
"He received his transplant about a week ago, was released from the hospital today and now we are in a hotel behind the hospital for a month for monitoring," Knight said.
He still has to undergo chemotherapy so doctors can be sure the cancer is taken care of, Adrian said.
Tucker is surrounded by people who want to see him win, Knight said. He thanked Christy and Dough Hughes as well as Donna Knight and Connie Wright.
Some community members are hosting a golf tournament at the Neches Pines Golf Course in Diboll on October 2nd. It will be organized in conjunction with a blood drive to help provide donations to children like Tucker.
"I think they're going to bring their bus up there and make the trip in the morning, around 7 am, so people can go out and donate before they start drinking beer," Adrian joked.
The tournament is held to hopefully raise funds and offset the costs families face when a member battles cancer. It costs $ 400 for a team of four to register and there is still time to do so, Adrian said.
There is also a GoFundMe page set up for the family in case someone wants to donate but doesn't want to attend the tournament.