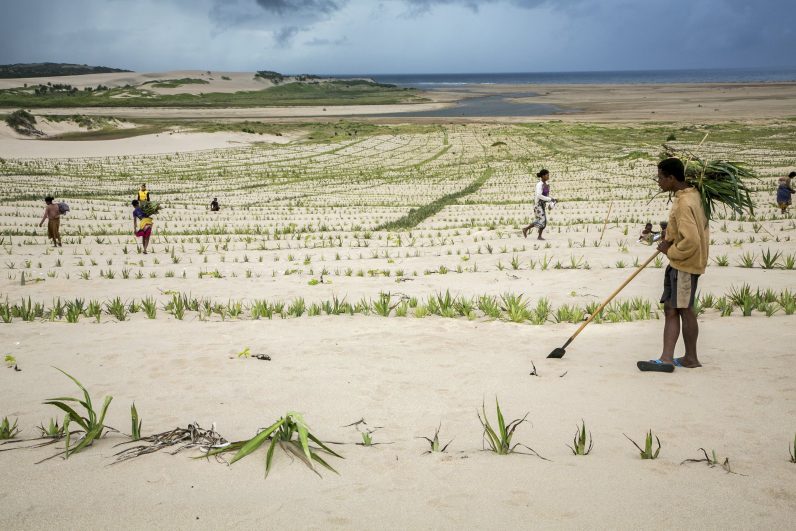 By Dan Rooney • Catholic News Service • Published January 28, 2022
When people think of Madagascar, the fourth largest island in the world, they probably think of lush rainforests where lemurs swing from the trees or where vanilla grows in abundance.
Yet this glamorous idyll – popularized by Hollywood movies – is a far cry from the reality of what has become a food-starved nation.
Located in the Indian Ocean about 250 miles off the southeast coast of Africa, Madagascar is vast. In fact, it is so vast that if it were located in the United States, its length would extend from the Canadian border to Florida. It is also a place with varied landscapes, from tropical forests to semi-arid deserts.
As a staff member of Catholic Relief Services, the global charity of the American bishops, I have traveled through Madagascar many times – and each time I am struck by the beauty of this place.
Yet despite its natural beauty, Madagascar is struggling. For the past four years, communities in its southern desert have faced drought – a drought that has become so severe that 1.1 million people currently do not have enough to eat.
It is the worst drought to hit the country in four decades. CRS, which began working in Madagascar in 1962, provides food assistance to more than 170,000 drought-affected people.
Historically, Madagascar has not been immune to drought. In fact, the Antandroy people, a nomadic group living in the south, managed to adapt to the harsh conditions of the desert. Their diet of corn, chickens, and forage may seem meager for an American, but it's enough in an area with limited rainfall.
Yet, in the age of climate change, the Antandroy people are suffering. " I do not know what happened. But someone told me that the foreigners had moved the clouds," said a villager from Antandroy.
The Antandroys realize that they are on the front line of a crisis that is not their fault. In fact, the cruel irony of climate change is that it affects the world's poorest and most vulnerable communities, who are least responsible for the problem.
So what can we do as American Catholics to stand in solidarity with our Malagasy brothers in this time of great need?
As Jesus once said: "Blessed are those who hunger and thirst for righteousness, for they will be satisfied" (Mt 5:6). With these words, Jesus was not talking about physical hunger or thirst. Nor was he talking about complacency. Rather, Jesus' intention was to bless those who "hunger and thirst for righteousness" on behalf of others.
And in the age of climate change, that's the challenge for all of us.
Bliss calls us, as Catholics living our faith, to thirst for climate justice so that people can live less hungry and less thirsty lives. Jesus' metaphorical use of "hunger and thirst" emphasizes the difficulty, pain and sacrifice involved in doing what is right.
With this bliss, we are challenged to suffer in the service of others. Communities in Madagascar are suffering the worst effects of climate change, despite contributing so little to the problem.
We must take up their cause and defend it – we must thirst for justice for them through our prayers, our thoughts and our actions. It is a difficult request which requires an examination of conscience. However, living one's faith is not easy. Jesus never promised us that.
***
Dan Rooney works as Chief of Party for CRS Madagascar where he supports a team focused on managing programs related to nutrition, agriculture and more. He has over 20 years of experience in sub-Saharan Africa supporting US government and humanitarian programs.