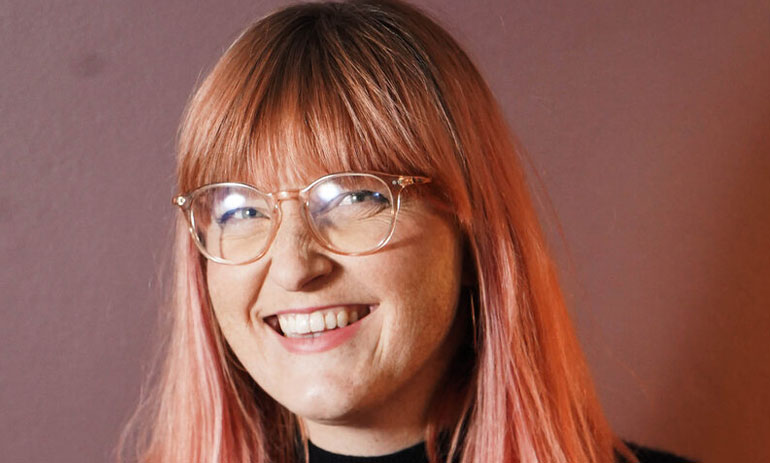 As an impact producer, Leeanne Torpey has found the perfect marriage between her campaigning skills and the creativity of cinema. She is this week's Changemaker.
Leeanne Torpey is an award-winning documentary impact producer with a background as a human rights activist and journalist.
She told Pro Bono News that she had recently been described as a "staunch optimist".
"At first I was a little offended by that statement, but when I thought about it, I think it's true. I've always been one to dream of a world that allows equal opportunities for all," she says.
"The character in the book that I linked my childhood to was Pollyanna, she was always so 'happy happy happy' with everything, although she was an orphan and things sure hadn't been so rosy for her.
"I look at her now and I think she's a bit naive and sweet. But Leeanne at 10 could really relate, and that ability to be positive and dream big stayed.
Leanne is currently producing another frontier, Ithaca: a fight for Julian Assange and The great health check of Magda Subanzki.
How did you come to the position you currently hold?
I was that kid who took a portable camera on vacation and then forced everyone to watch my boring stories of uneventful family vacations. I continued to obsess over photography, fonts, storytelling and slowly learned to do less boring things.
My first job was in finance (terrible idea for me). Then journalism (I loved it, but felt like I was too far removed from the good fight). Then the human rights campaign (which I also loved, but felt like I was in an echo chamber).
Now, as an impact producer, I bring together the worlds of campaigning and journalism (just right), tapping into the power of film and television to create change.
When the right story reaches the right audience, that's when the magic happens.
What does a typical day look like for you?
The most effective impact production begins when a film is in development. The research informs the strategy you will execute for the release and the life of the film beyond. Making impact is really about relationships, so most of my time is spent with people. Although there are also a lot of spreadsheets and fundraising and budgeting. Sometimes you will be on set. Sometimes in an editing room. But you'll always be in conversation with people who are doing amazing things and pushing together for a better and brighter future.
What are some of the challenges of working in NFPs in general?
I truly believe that NFPs are pioneering some of the most ingenious and innovative responses to real life challenges. You are often dealing with externalities – things that market forces cannot define.
It does, however, mean that you often test things and work on heavy, complicated, and difficult content. Burnout is a real risk. The salaries people receive are often not equivalent to commercial positions. The ability to really upskill if your pilots are working can also be difficult – the capital needed to do so can be very difficult to build, especially when the main funding models are largely opaque and attracted to shiny new things!
This is meaningful and meaningful work. But it's not for the faint-hearted, that's for sure.
What is your greatest achievement?
When I was working at the head of the global campaign to end the detention of migrant children, I once managed to reunite two cousins, who had been separated when they were young, around the ages of 5 and 7 .
I had worked with Najeeba Wazefadost for the Australian campaign and Gholam Reza Hassan for the Greek campaign for years as young ambassadors who had gone through the experience of seeking asylum as children. One day I was preparing for them both to present at the UN in Geneva, so I emailed them to introduce them and set up a conference call.
I will never forget Najeeba's email response. "Is that my cousin Gholam, whom I haven't seen since I was 6?!!!! ".
Gholam replied, with the incredibly understated response, "yes, that's me."
This moment when they saw each other in Geneva, it was just incredible. The whole Australian cohort was there and there was not an eye without tears in the house. Not one.
Najeeba and Gholam are amazing industry leaders today. It's amazing how families can create a culture of nurturing young leaders who aren't afraid to speak power to the truth, and that culture can span hundreds of thousands of miles across the seas. I couldn't be more amazed that I was able to play a small part in bringing them back together. Sometimes I still think this story has to be made up.
What do you see as the challenges the sector will face in the future?
Australia has some of the world's leading impact producers, and we really do innovative work. However, I think it is a resource of change that is not being used enough. Collaboration between NFPs and the entertainment industry can have incredible results – NFPs bring knowledgeable and useful materials to meet a real need, film and television bring their incredible ability to tell stories that really connect with the public. The role of the impact producer is to work between these worlds and create a campaign around the film that ensures the work is capable of delivering the change the film envisions.
For instance, Backtrack Boys is a great movie about a group of troubled boys on a perilous race to jail until they meet Bernie Shakeshaft, the rough-talking, freewheeling jackaroo, and hit the road with his legendary jump team. of dogs. The impact campaign has seen significant funds raised for this successful model of preventing juvenile detention, and it has inspired similar programs in other states and territories. Honestly, amazing stuff, and getting that message out to a large audience has been incredibly powerful.
I encourage people in the not-for-profit sector to visit the Doc Society Impact Field Guide for a ton of inspiration and to think big about the audiences they need to connect with to change the dial on the issues they're working on.
What do you do when you're not at work?
I still love reading and movies – I promise you my taste has improved since my blissful days. I have a deep appreciation for investigative journalism. I'm also into yoga and rock climbing and sarcasm. I'm on the board Coalition to End Child Detention and the management committee of lady changers.
What do you want to accomplish when you retire?
Look, I've already connected a pair of long-distant cousins ​​seeking asylum, my job here is done!
All kidding aside, I want to be part of a movement that sees the diversity of our communities reflected in all levels of our media. On our screens, behind the scenes: I want a transparent and accountable society through a functioning media state, led and informed by the diverse and real knowledge that exists in our communities, with the ability to undertake in-depth investigative journalism and reflexive. Right now our media is run by the privileged, and that does us all a disservice.