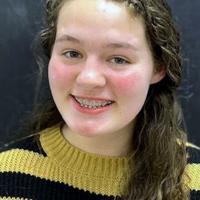 Although we are only two months away in 2022, it has been very eventful at Carpenters Middle School.
The Yearbook Committee continued their incredible work, producing a yearbook like no other. The initial aim was to be part of the Balfour 2022-2023 Highlight Book, called the 'Yearbook of Yearbooks'.
This book draws attention to the top 5% of directories that have achieved impressive layouts, themes and covers. Most of the time, it's only restricted to certain high schools and colleges, but this year's annual CMS was chosen to be in the top 5% of directories. Many committee members are pleased that their hard work has been recognized. The final version will be sent for publication during spring break.
Along with this, the selection of students to be listed in the yearbook has begun. The first round of students were selected by the teachers, specifying exactly who is right for the superlatives. Eighth graders will then vote for the student who best fits each superlative. Many of these superlatives include "most likely to" categories and even Mr. CMS and Miss CMS.
In CMS sports, volleyball took a step closer to the start of its season by choosing varsity and junior captains. The junior varsity captains are seventh-graders Peyton Correll and Grace Brewster, and the varsity captains are Taylor Mauvis and Abby Harris.
Mauvis is honoured, she said, because she "loves to cheer on other girls, be a role model for the younger generation and always cheer them on." Stay tuned for upcoming matches.
To better prepare for the transition to ninth grade, eighth graders attended William Blount High School on February 25. They made a visit and had lunch on site to familiarize themselves with their future campus and learn how their courses will be laid out.
Additionally, some CMS students have competed locally and virtually with other colleges in the Blount County Academic Olympics. Our team got first place. Members of the team include sixth graders William Newsom, Addison Whitehead, and Leon Griswold; seventh graders Michael Chynoweth, Timothy Gilliland and Colton Harrison; and eighth graders Jonathan Chitwood, Sara Beth Gregory, Ariel Layne-Kirksey and Tyler Snavely. It was the first academic Olympics since the start of the COVID-19 pandemic.
In addition, the art students worked on masterpieces using oil pastels, and the students created extremely beautiful and very creative works of art.
Sara Beth Gregory is Carpenters Middle School's pen pal.