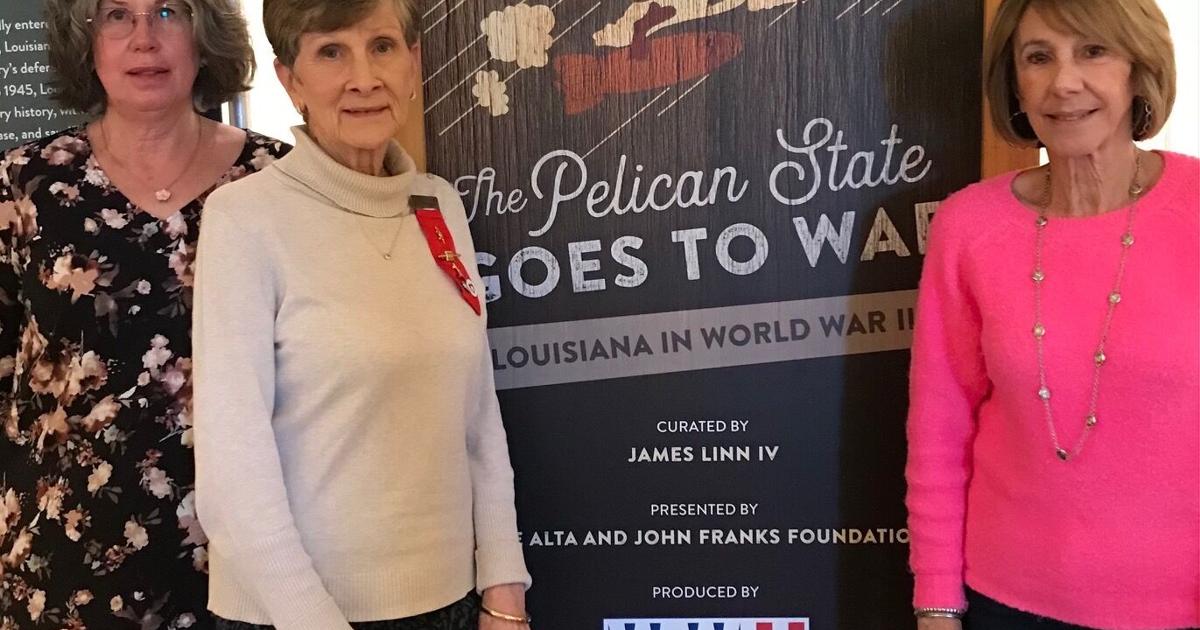 The Alpha Lambda Chapter of Delta Kappa Gamma met Feb. 12 at the West Baton Rouge Museum in Port Allen to discuss chapter business and further explore Louisiana history.
Members took a self-guided tour of the "Pelican State Goes to War" exhibit, which covered Louisiana's contributions to victory in World War II. It included photographs, artifacts, and oral history of Louisiana's involvement in the war.
Alpha Lambda supports Metanoia Manor, a shelter for victims of human trafficking. Metanoia Manor will be the chapter's Fleur de Lis project.
New officers were elected are president Cindy Guidrozfirst vice president Joyce Landrysecond vice-president/newsletter Betsy Staffordrecording secretary Christina Talbotcorresponding secretary JoAnn HebertTreasurer Sandra PurperaHistorian Catherine Olindejournalist France MajorParliamentary Susan Collura and Webmaster Karen Barrios.
Friends of the OSC hold annual meeting
The Friends of the Old State Capitol held their annual meeting Feb. 20 in the chamber of the CSO Chamber.
President mike zobrist welcomed the guests. Architect and member friend Kevin Harris gave an insider's perspective on the restoration of the building. Marie Durusau discussed upcoming programs and exhibitions. Refreshments were served in the rotunda after the meeting.
Red Stick Kiwanis Named Distinguished Club
The Kiwanis Club of Red Stick has been named a Distinguished Club for 2020-21 by the LAMISTENN District of Kiwanis International.
President of Baton Rouge Kiwanis matt robinson accepted a trophy recognizing the club's honor at the Region V Mid-Winter Conference on January 22 at the Mezzanine Event Hall in Hammond. At this meeting, long-time local Kiwanians Laura Gilliland was elected by area delegates for a three-year term on the LAMISTENN District Board of Directors.
Gilliland will succeed Michele Crosby Denham Springs Kiwanis. Region V includes 19 Kiwanis clubs in the Baton Rouge area and extends from the Atchafalaya region to parishes in Florida.
At Red Stick's weekly meeting on Jan. 28, Robinson praised club members for contributing to the success of membership recruiting efforts, program development, fundraising through special projects, and training at the club. leadership.
Other conference participants briefly discussed what they learned from the "how to" session which focused on membership, engagement, fundraising and project development and management. Sharing their chips were the president-elect Don WisemanFormer president Gary LaBauveboard members Carolyn Robinson, Cherryl Matthews, Tommy Darensburg and Oni Ejezie-Watson.
For more information about Red Stick Kiwanis, contact Darensbourg by text at (225) 205-7185 or email [email protected]
The Inter-Civic Council installs new officers
Viviane Freywho represents the Baton Rouge Regional Eye Bank, was named chairman of the Greater Baton Rouge Inter-Civic Council at its Jan. 11 monthly meeting at the Hunan Restaurant.
Frey was President-Elect in 2021 and chaired the 80th Annual Golden Deeds Award Banquet Program.
were also installed Donna LeggettKiwanis Club of Cortana, president-elect; Tommy DarensburgKiwanis Club of Red Stick, vice-president; Amy Draco, Altrusa International of Baton Rouge, secretary; dr. Richard FlickerExchange Club of Baton Rouge, and Barbara AutenCapital Alzheimer Services, co-treasurers; marvin borgmeyerMetanoia, Inc., director for one year; Kathy Colman, Grandparents Raising Grandchildren Information Center, director for two years; and Erik KjeldsenKiwanis Club of LSU, Past President.
Leggett, on behalf of the board members, presented Kjeldsen with a plaque in appreciation for his leadership as ICCGBR President in 2021.
The 81st Annual Golden Deeds Award Banquet will be held Nov. 8 at the Baton Rouge Marriott.
The ICCGBR is made up of approximately 30 nonprofit and community service organizations in the nine parish area of ​​Baton Rouge. For membership information, contact Darensbourg at [email protected]