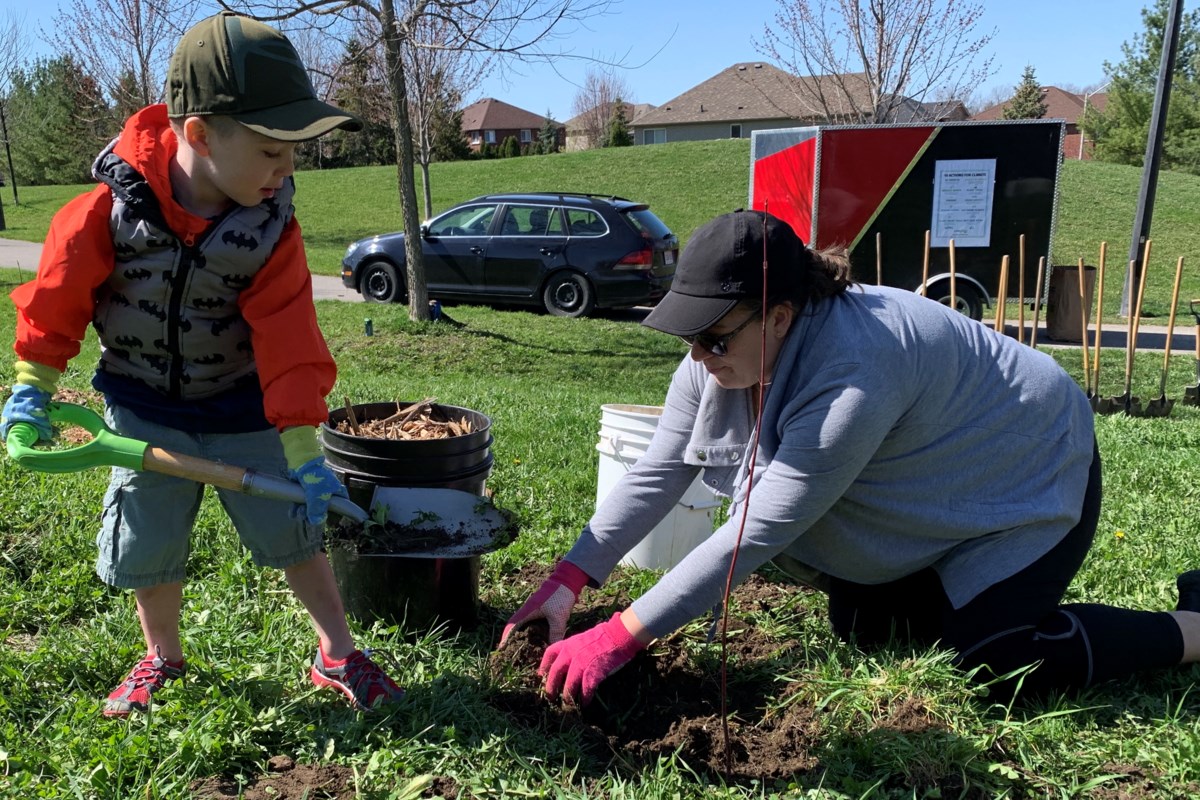 Living Green Barrie, BarrieToday team up for event at Loyalist Park; "The more trees the better," says one participant
The shovels were out and the dirt was flying at Loyalist Park Saturday morning.
Living Green Barrie has partnered with BarrieToday for a community tree-planting event this weekend, when community members were invited to come out and help plant more than 300 trees in the park, located on the southeast end of town.
"It's a really good (opportunity) to educate the public about the importance of trees, especially at a time like today when we're dealing with climate change. Planting trees is one of the best things we can do to fight climate change," said Sarah Herr, Project Assistant at Living Green Barrie (formerly Environmental Action Barrie), an organization that runs environmental projects across the city for more than three years. decades.
"It's a feel-good activity for everyone…and it's good for the planet."
The trees planted Saturday are all native species and the goal is to plant 10,000 in Barrie, she added.
"There are oaks, spruces, pines…and they're mostly bare root trees now…They're growing very well," she said, adding that more than 50 people s were registered for the event.
Jamie Wells brought her three-year-old son, Elliot, to the park for a fun and educational mother-son day.
"We haven't really had a conversation about why trees are good for the world and people, so I thought it was a great learning opportunity for him and for us to get our hands dirty. hands while we do it."
The Gamble family also came to the park, looking to get their hands dirty.
"My wife is friends with the organizer and she thought it would be a good idea to join," said Paul Gamble, while digging a hole with his son Ethan.
"He loves to draw and we use so much paper, so that's how we catch up," Kristen joked. "It's just nice to go out. The more trees, the better.
Gita Cartwright sits on the Living Green Barrie Board of Directors and said BarrieToday she was excited to come out and help the organization in this way.
"When people come to help, it's wonderful. All the little children who (here) help their parents and they talk about ecology and biodiversity, and it's super cute.
The goal of the event, she continued, is to publicize the organization's initiatives as much as possible.
"We want to make sure we're building something that's sustainable. I think of my children, my grandchildren, and in this way it helps to develop some awareness. It starts in the community. That way we have a voice when we talk to government and (we want to) make sure it's an issue that always comes first.
Tree planting is one of three programs run by Living Green Barrie. Others include FruitShare and GreenScreen, and all three match the organization's 10 climate actions.
"We have put together 10 Climate Actions to guide anyone in or around Barrie to take action on climate change. The action for the month of May is "Planting trees". October is 'Plant More Trees' and we will have at least one community tree planted in October 2022," Herr said. "Our goal is to plant 10,000 trees in Barrie. So far we have planted around 3,000 trees with a focus on planting native species," she said. "Part of our tree planting program is educating the public about the importance of trees and how to properly plant and care for trees."
A second community tree-planting event is scheduled for May 15 at Shalom Park in Barrie and will run from 10 a.m. to 2 p.m. To register click here.