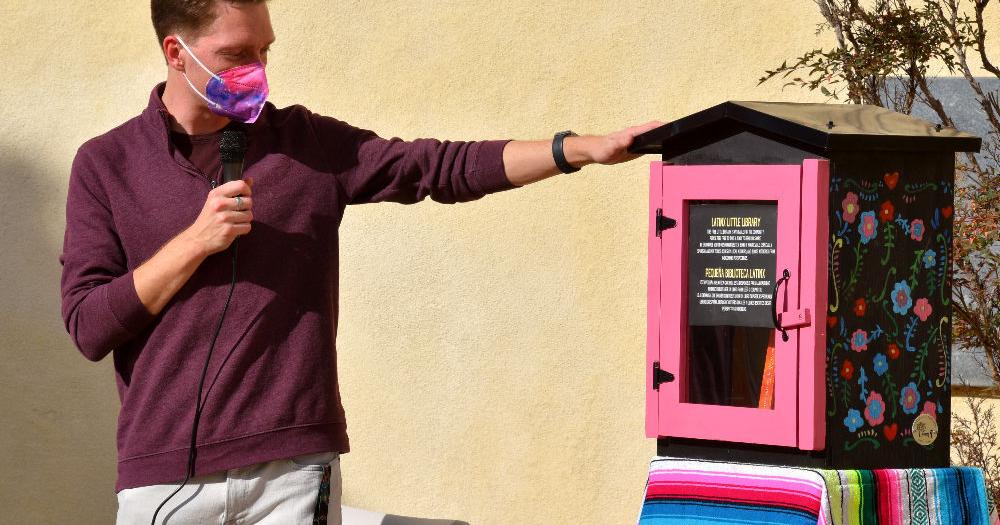 On Saturday, community members joined leaders of Corazón del Pueblo in dedicating their small, free Latinx library and condemning recent incidents of vandalism at the Santa Maria Valley Creative and Cultural Arts Center.
Corazón executive director Alex Espinoza-Kulick said Jan. 10 that an individual working in the same building as his increasingly hostile Main Street office allegedly damaged a hip art installation. -hop Latinx as well as inside the office of the association. while shouting racial slurs.
On January 11, executives also discovered that the Latinx Little Free Library booth in the building plaza next to Heritage Square had been ripped out of the concrete. Damage from the two incidents was estimated at $21,000 in total.
While both incidents were reported to the Santa Maria Police Department, officers from the Detective Bureau said it was a civil rather than a criminal issue and the vandalism did not appear to be racially related. The department's detective office did not respond to inquiries Monday about whether an investigation was underway.
The renovated small library, which contains books written by local Latino and Indigenous authors, will become mobile and travel to different parts of the Santa Maria Valley instead of staying in the plaza. The nonprofit also plans to move to a new location, which has yet to be determined, Corazón executives said.
"Unfortunately, we know that various stories of racial antagonism are very deeply rooted in this community, and this has come to [forefront] in this case of violence and hatred. It is unfortunate that anyone thinks to attack, blame, ignore and disrespect an organization that stands for non-violence, that stands for liberation, creativity, arts and culture and access to all our communities," Espinoza-Kulick said.
Religious and nonprofit leaders, including Father Peter Kang of St. Peter's Episcopal Church, as well as Michael Fuentes, One Community Action program manager, and Crystal Ramirez, youth engagement manager, were also present. for a panel at the ceremony.
Ramirez explained how racism has historically limited opportunities for communities of color such as Latinx communities, and how organizations like Corazón del Pueblo and One Community seek to increase those opportunities.
"Racism really affects more than the community – it affects generations. And so when we heard about the incident, we knew we had to come together," she said.
The event was also broadcast live on the Corazón del Pueblo Facebook page.