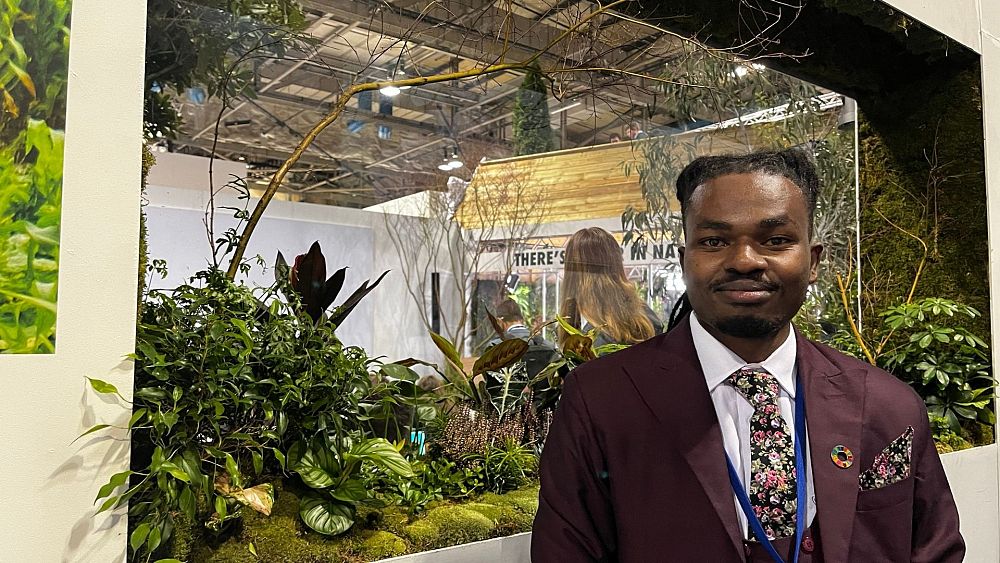 [ad_1]
All along COP26, we feature some interesting people we meet here in Glasgow.
From volunteers and politicians to activists and scientists, we will introduce you to the range of people at the UN climate summit.
name
Kaluki Paul Mutuku.
Role
I am from Kenya and African Regional Director at Youth4Nature.
Why are you at COP26?
We are a youth-led organization and we come to demand that we be in the bargaining space. There is room for young people and you cannot leave them out.
You need to center youth and communities – especially indigenous and frontline communities who are focused on bottom-up restoration solutions.
Why is nature so important in the fight against the climate crisis?
Nature is the number one ally we have in the fight against climate change and the loss of biodiversity.
It is important for us to always put forward natural climate solutions and to place nature at the center of the negotiations because it is the very backbone of the why of humanity and of our human survival.
If we discuss nature, we give hope, not only to present generations but to future generations.
What does it mean for you to see nature as a major focus of this COP?
It is one of the first times when nature is at the center of the discussions.
We've talked about it before, but now it's like a step in the right direction.
We hope and wish that all negotiators really start to think beyond that, looking at how can we finance nature. How to place young people and communities at the heart of decision-making? How can we open the discussion outside of this conference to position countries and the grassroots with the resources to meaningfully engage in this space?
What is your reaction to the deforestation pledge made yesterday?
You know what? It is a good pledge. Honestly, I think 16 billion euros is a huge amount to mobilize to commit to stopping deforestation by 2030.
But for me, I think above all, where is the money? How to translate commitment into action? How do we support the grassroots?
How to transfer money and technology to communities? How can we make sure we are using nature-based solutions to protect our own survival?
This is a challenge for our heads of government – we need action beyond commitments.
Why do you think young voices are so important?
Climate change doesn't choose any generation, it affects us all here and now. It is our very future that we are fighting for, that we are claiming.
These places allow us to bring together our energy, creativity and innovation – we must be co-creators of solutions to today's natural and climate crisis.
How long have you worked in the environment sector?
I have been an environmentalist and climate advocate for 10 years, but have been actively engaged in nature-based solutions for the past three years in the Africa region.
I was born and raised in Kenya and spent most of my childhood in our village in the country in a place called Machakos. It is a semi-arid region and we are facing water scarcity, famine and encroachment on nature.
This is what made me want to push for change in my community, using nature-based solutions and restoration mechanisms for villages and my community, so that I can build resilience in the face of the crisis. climate and biodiversity loss.
What does a successful COP26 look like for you?
For me, a successful COP translates to how well we translate commitments into actions.
It's about how we're going to leave this conference with the hope of getting funding to unlock the potential … how we're going to prioritize marginalized and frontline communities.
A successful conference ensures that we continue the youth movement beyond COP27 and move closer to COP27 – which I believe will be an African COP.
If we don't get more representation of young people in the next COPs, it will be a failure for me.
What are your realistic hopes for COP26?
We need the Global North to intensify. We need climate finance.
In terms of climate finance, we need to think about how to help our countries in the South to engage meaningfully in this decade of action, so as to strengthen their resilience for climate adaptation, especially for us. in southern Africa.
And finally, I think the hope that we can center the negotiations around young people, nature and marginalized and frontline communities.
These are the people most affected by climate change, while doing a lot of work to create solutions at the local level.
Watch the video above for more on what Kaluki has to say.
[ad_2]