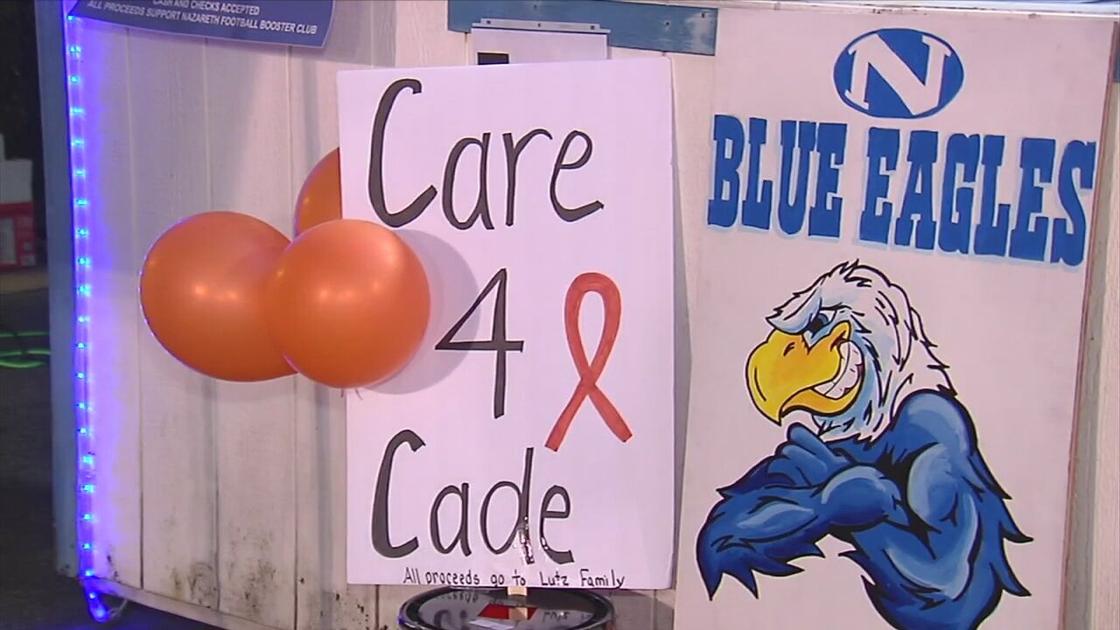 NAZARETH, Pa. – The Lehigh Valley is rallying around a teenager diagnosed with blood cancer.
At the Andrew S. Leh Stadium in Nazareth on Friday, two high school football teams helped galvanize the community for a common cause.
Cade Lutz graduated from Nazareth area high school in May 2021. A few weeks ago, he was diagnosed with leukemia and started treatment on his 19th birthday.
As the Bethlehem Freedom Patriots faced the Nazareth Blue Eagles on the grill, a sea of ​​orange shirts filled the stands.
"We all need to support him," said Nicholas Foster, a high school student in the Nazareth area. "He's family to us. He went to our school and he's family to us."
In the run-up to Friday's game, both teams decided to change their school's themes for the game to orange, the color associated with leukemia awareness.
September is also Leukemia Awareness Month. According to the Leukemia & Lymphoma Society, 1.3 million Americans are living with or in remission from blood cancer and someone is diagnosed every three minutes or so.
"We have decided that a community is better and bigger together, so we came together and here we are tonight, and as you can see we have orange all around us," said Amy Pidgeon. . "In a world that seems very divided, we are united tonight."
Rivals on the other side of town, who are now teaming up to raise awareness and mobilize resources to help cover medical expenses.
"The news spread pretty quickly and we are such a close community that the community wanted to come together to do something for the family," said Jim Pilla, a sixth grade math and science teacher at middle school. from the region of Nazareth. "They are so involved in the community, so we thought it was the least we could do for them."
Friday night's support display is just the start.
"You can contact our Nazareth recall club," said Pidgeon. "There are a lot of different places that collect for the family. You can contact anyone in the Nazareth School District and they can point you in the right direction."
"It's bigger than football. It's bigger than school," Pilla said. "It's just real community support."