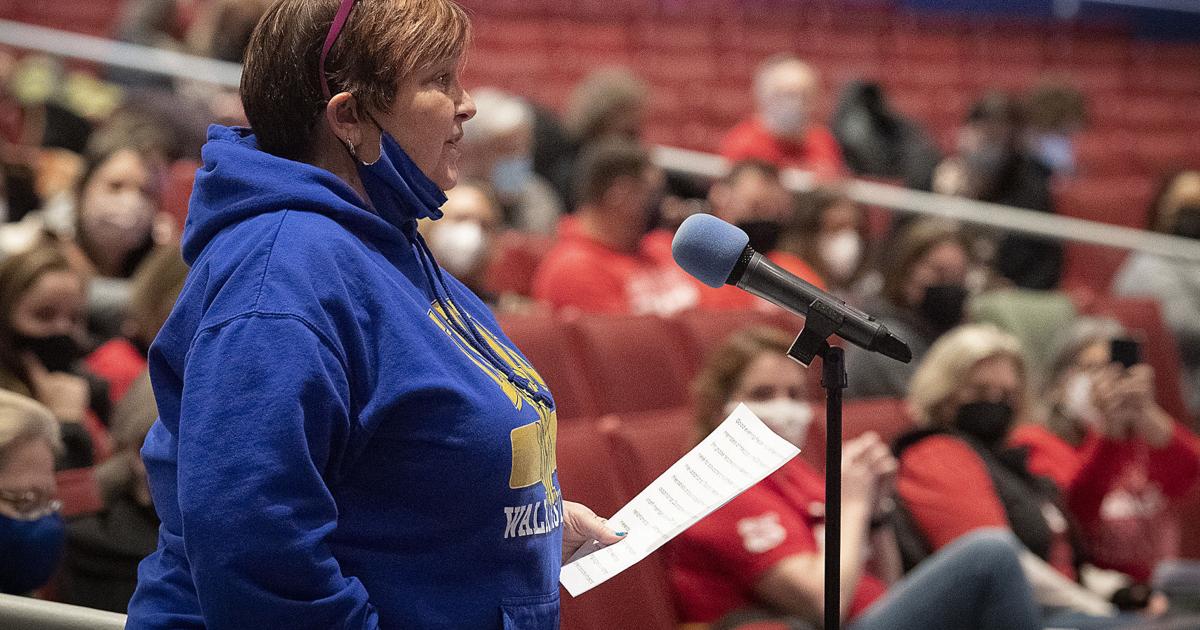 Enthusiastic applause rang out in the auditorium at Governor Thomas Johnson High School on Wednesday as a parade of Frederick County Public Schools staff approached the microphone to plead for better pay.
During nearly two hours of public comment during the Board of Education's budget hearing, almost every speaker reiterated the same idea: with the region's lowest-paid educators, the system was suffering from a brain drain. teachers and a drop in the morale of those who remained.
"Education has never been an easy passion to follow," Lindsey Beck, a math teacher at Tuscarora High School, told the board. "But it's very disheartening to hear every week from another colleague who is considering leaving."
FCPS consistently ranks near the bottom in teacher compensation statewide, behind counties like Washington, Howard, Baltimore and Montgomery.
Maritza Figueroa-Mangene, an English teacher at Lincoln Elementary School, would earn an extra $18,000 a year if she took an equivalent job at Montgomery County public schools, she said.
"That's 18,000 reasons to leave," Figueroa-Mangene told the board, her voice cracking as she began to cry. "But I'm staying because I like it here."
Several other speakers became emotional as they spoke to board members, who watched them from their seats on the stage. Some educators reported working second and third jobs to support their families. Like Figueroa-Mangene, they described being constantly torn between love for their students and a desire to take a job in a neighboring county for significantly more money.
Danelle Locke, a kindergarten teacher at Butterfly Ridge Elementary, said she now lives in Washington County because she couldn't afford to live in Frederick County. When she lived locally in the past, she said, she was entitled to a Section 8 housing voucher.
Locke's mother worked for FCPS for years, which attracted her to the district. But she regrets her choice, she told the council.
"Every day as I drive up the mountain to work, I wonder why I'm doing the commute," Locke said. "Because I could walk to work and make more money working for Washington County Public Schools."
FCPS Acting Superintendent Mike Markoe presented a recommended budget of more than $836 million, a spending plan that represented by far the largest increase in requested funding in recent years. The school board added about $1 million in additional positions to that request at its meeting last week, bringing the total to $837,087,188.
This is a 9.4% increase over the approved budget for FY2022.
The school board will refine its spending plan over the next few weeks before sending its final request to the county on Feb. 23. The current budget proposal would essentially ask the county to commit $40 million more to the district than it did last year.
School board chairman Brad Young said this year's budget was an attempt to be "more realistic" about the district's needs, rather than simply asking for the amount board members could reasonably expect. to obtain.
Missy Dirks, president of the Frederick County Teachers Association, said the change was a step in the right direction.
"This budget is the first in at least a decade that comes close to asking what the system needs," Dirks said. "I applaud this change."
But Dirks and dozens of other speakers told the council the spending plan was just the beginning of what was ultimately needed.
The spending plan includes a pool of $23 million for staff salary increases, which Young said equates to an increase of about 5% across the board.
But since impending state law will require all districts to begin increasing their starting salaries until they reach $60,000 a year, many speakers argued that this incremental increase wouldn't do much. something to bridge the gap between FCPS and surrounding counties.
Although most of the speakers were educators, some support workers, parents and community members also attended the hearing. Their demands related almost exclusively to questions of personnel and remuneration. Bruce Taylor, a caretaker at Thurmont Middle School, was greeted with a standing ovation after describing his and his colleagues' struggle to carry out their duties amid a staff shortage.
The district has about five backup guards, Taylor said, and responds to about 40 calls each day. The position of a backup custodian is not advantaged.
Any changes the council wishes to make to its requested budget as a result of the hearing must be proposed by next week, Young said.