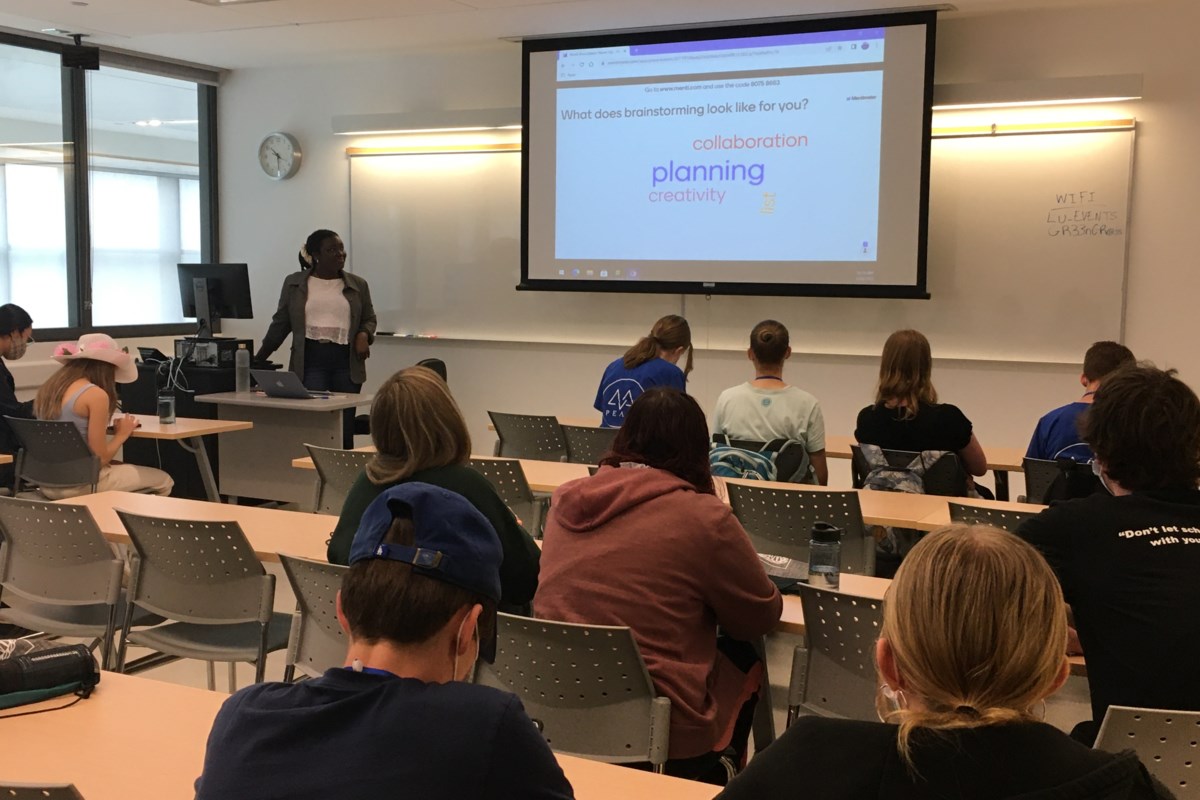 The Sustainable Simcoe Youth Summit hosted 200 local high school students who spent the day in Lakehead exploring how to respond to the climate emergency
PRESS RELEASE
SUSTAINABLE ORILLIA
*******************************
Scared. Disappointed. Concerned. Angry. Nervous. Stress.
These are the reactions of young people to the climate emergency, as reported by students attending the Sustainable Simcoe Youth Summit at Lakehead University on May 26.
Two hundred students from area high schools spent the day at Lakehead's Orillia campus exploring how to respond to the challenge of the climate emergency.
The event was supported in part by the Social Sciences and Humanities Research Council (SSHRC) of Lakehead and hosted by the Sustainable Orillia Youth Council with support from Lakehead faculty and staff in Orillia.
"I'm very happy with how the event went," said lead organizer Blythe Wieclawek, president of the Sustainable Orillia Youth Council and Grade 11 student at Twin Lakes High School.
The day began with a keynote address by Dr. Brad Dibble, a Barrie-based cardiologist and member of Al Gore's Climate Reality Project team, who explained the impacts of climate change on health, livelihoods, life and life. food, well-being and conflict.
Workshops followed, including a simulation where "UN Global Summit delegates" representing eight sectors, including world governments, industry and trade, agriculture and forestry, clean technology and the 'climate justice hawks', have all been working on solutions to the crisis in an effort to keep the global temperature rise to 1.5°C. (spoiler alert – they did it!)
The day ended with an inspirational call to action from Allie Rougeot, a 23-year-old Toronto-based activist who some call "Canada's Greta Thunberg". She urged young people to carry "the belief that you are capable of making a difference" and to realize that the voice of young people is needed to solve the climate crisis.
"You hold so much power," she said, "so don't waste it! You don't need to be an expert. You just need to care about it.
As the students prepared to return home, they shared their reactions to the day.
"I discovered solutions that I didn't know existed," said one.
"I've learned that there is no single, simple answer – the small actions of many people add up!" said another.
And above all, "We all have a role to play."
And indeed we do. Let's support our young people. Climate action calls on all of us to play our part.
*******************************