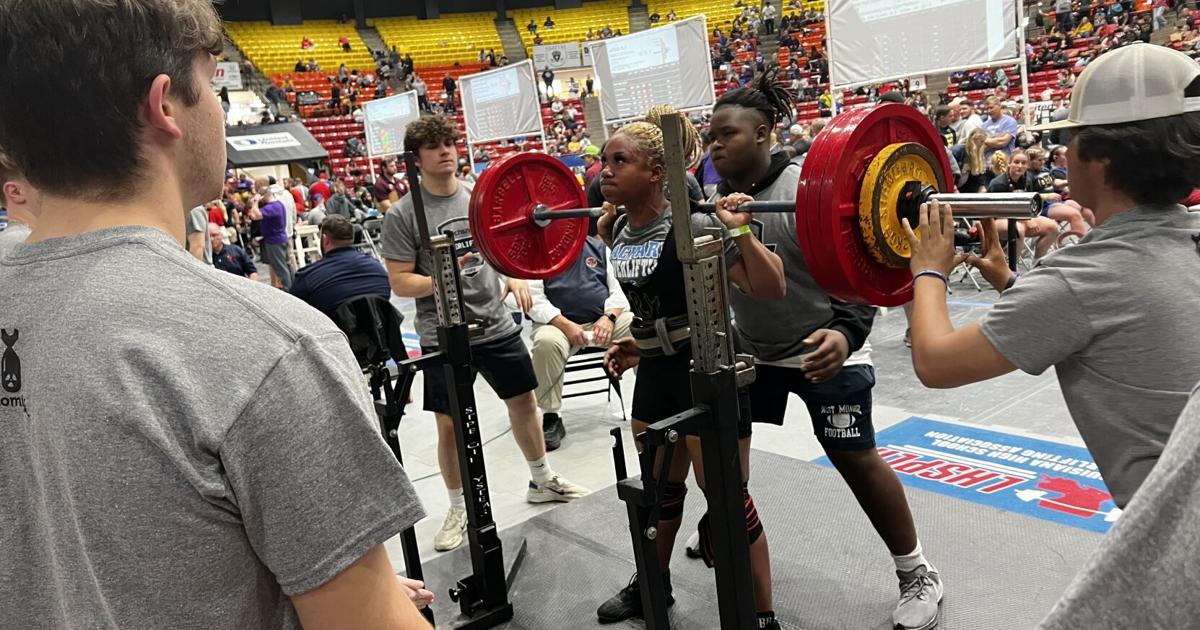 MONROE— And the streaks continue for two of the top girls' powerlifting programs in the Baton Rouge area.
Lutcher won her 15th straight Division III-Class 3A title and Port Allen won her third straight crown and ninth overall in Division IV-2A on a record-breaking day for the girls at the Ochsner Powerlifting Meet / LHSAA.
"It's really kind of a way of life for them," Lutcher's coach Jon Magendie said. "You can't just train 10-12 weeks a year, call it the season and then do what they do. They set goals…usually right after state. And stick with them.
"We only have two seniors. Our older girls were great and we saw some of our young lifters mature. It was a big effort. »
The Bulldogs topped Division III competition winning six of 10 weight classes to score 65 points, well ahead of Grant (24) in the meeting at UL-Monroe's Fant-Ewing Arena.
Port Allen faced a tougher challenge. The Pelicans scored 57 points to edge Pope John Paul II (44) and Northlake Christian (41). Livingston Parish-based Holden was the Division V runner-up. The three-day competition ends on Saturday with men's competition for Division I and Division II starting at 9:30 a.m.
"We left some weight on the bar, but you have to keep pushing forward in the competition and dealing with adversity," PAHS coach Brandon Bizette said. "They were able to do that and achieve great things."
Local competitors earned Outstanding Lifter honors in Divisions I, III, IV and V.
Zachary's Jaydan Jackson was the Top Lifter on the Division I heavy platform. She set division records at 165 pounds with a bench press of 255 pounds, a deadlift of 440 pounds and a total of 1,085 books.
The Lutcher duo of Blair Ursin and Malaya "Sugar" Mitchell swept Division III Top Athlete honors. Ursin was the top contender on the lightweight rig. Competing at 148 pounds, Ursin set a composite record with a total lift of 915 pounds which included a 415 point deadlift. Mitchell competed at 165 pounds and took the honors for the heavy rig with a total lift of 835 pounds.
"I feel amazing…and it's just amazing to be part of a team like this," Mitchell said. "We all push and motivate each other."
Port Allen's Alexis Alford was the top athlete on the sub-platform at 148 pounds. Her total weight was 905 pounds as she won an individual title for a second straight year.
"There was no way we were letting this one off the hook after missing out on a title shot two years ago due to COVID," Alford said. "I got to work. … We all worked to make this happen.
Holden's Kayla Davis was the top weightlifter on the V Division heavy rig with a total of over 1,000 pounds and competed in the over-220 weight class. Her teammate Mary Woods was the 220 champion.
Other notables
FIRST DIVISION: Woodlawn High had a champion at 97 pounds in Carolina Alvarado, while Dutchtown's Mia Gonzales (181) also won a title.
Victoria Drost (123) and Raygan Bosco (198) helped Denham Springs to fourth in the team standings with 22 points to lead all home teams.
OTHER DIVISIONS: Port Allen's Sulma Camaja won a third straight Division IV title at 97lbs and ends her career unbeaten
It wasn't just about Lutcher in Division III. Anna Wooten (114) of Parkview Baptist was also the individual champion. St. Michael's Meredith Taliaferro (114) was the region's only Division II champion.