"It is only with the sharing of the truth that true reconciliation can take place."
So says Shanta Sundarason, founder of the social justice group Giving Tree Unionville in Markham, which started a project to spark conversation about the massive numbers of missing and murdered Indigenous women and children.
The Canadian Library, commemorating First Nations, Métis and Inuit women and children who have been murdered or gone missing, makes its official public debut at the Varley Art Gallery in Markham on September 24.
It's a collaboration between Indigenous and non-Indigenous creators that aims to remind Canadians that every Missing and Murdered Indigenous Woman and Girl (MMIWG) has a story. Aboriginal artist Sandra Moore of the Hiawatha First Nation is participating in the project.
"When I was first approached by the Canadian Library, I was shocked to find that women, other than other Indigenous women, care about our MMIWG and our children. As an Indigenous woman, I am honored to have the privilege of working with these allies and sisters, in this unique and powerful way of honoring our MMIWG and raising awareness for all Canadians. History and truth about Indigenous peoples is a dark stain on Canada, and this project is beginning to color that stain.
The name of each MMIWG is printed on the spine of a book, which has been hand-wrapped in original Aboriginal-designed fabrics. The books form a dazzling and diverse showcase of Indigenous design, as showcased in the shelves.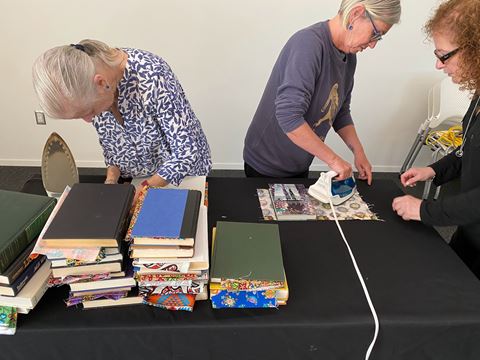 The books are hand-wrapped in original Indigenous-designed fabrics by volunteers.
Mim Harder, an Indigenous elder, grandmother and true Canadian history educator, shared her thoughts on the project with Markham Economist and Sun ahead of the debut.
"Personally, I think it's amazing that a group of settlers/newcomers to this earth cared enough about what the first people were facing, to learn, educate themselves, and then do something to raise awareness. others. This project is a colossal undertaking."
Harder hopes the project will "encourage others not only to uncover the truth about what has happened and is still happening on this earth, but also to find ways to change our collective narrative so that everyone can enjoy all the conveniences. that many take for granted in this country. country we now call Canada.
She quoted Justice Murray Sinclair, former chair of the Truth and Reconciliation Commission: "Education is what got us into this mess and education (or re-education) is what will get us out of it.
"I believe it," Harder said. "This is how we will learn to relate to each other and walk together, hand in hand, to create a better world for those who follow us."
Audiences can witness the deeply emotional display at various locations. Markham Stouffville Hospital is one of the sites planned for the exhibition. On Sept. 21, Harder and Sundarason led hospital attendees through an activity to hand-wrap books and strike up a conversation. The goal is for 8,000 packaged books to reside in a public setting yet to be determined.
"My vision for the Canadian Library was to help start important conversations and educate each other about the true history of Canada, with a living art installation that all Canadians could participate in," said Sundarason.
In addition to visiting the library in their communities, the public can contribute to the nonprofit project through donations or purchases that cover programming and fabric costs, donating hardcover books to wrap, and donating. volunteering. Donation opportunities are available at www.thecanadianlibrary.ca.
The facilities of the Canadian Library are initially planned for the following sites:
• Varley Gallery, Unionville
• Markham Stouffville Hospital, Markham
• King City Museum
• Niagara Falls Library
• Whitchurch-Stouffville Public Library
• Richmond Hill Public Library
• Newmarket Public Library
• IKEA stores across Canada
STORY BEHIND THE STORY: To write a story for the National Day of Truth and Reconciliation, journalist Irene Wong reached out to Indigenous communities and rights advocates in Markham.
TO SHARE: