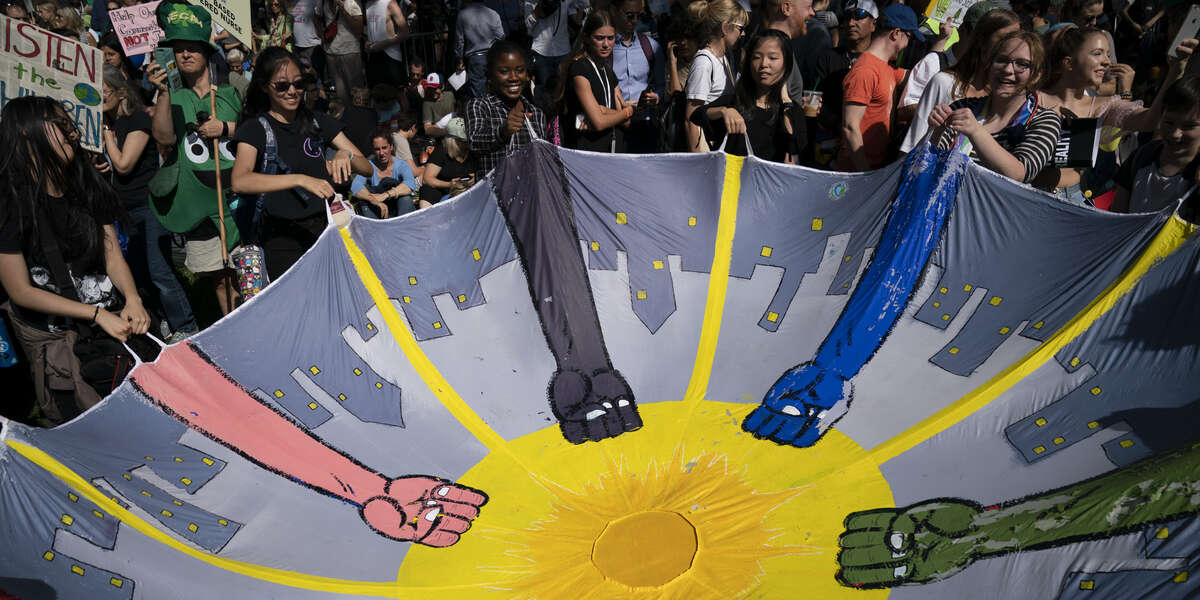 [ad_1]
1. Fiona Joseph
Fiona Joseph, currently an undergraduate student at George Washington University, established herself as a leader of the climate justice movement before enrolling in college.
Born in Elizabeth, New Jersey, to Haitian immigrant parents, Joseph witnessed the need to advocate for better working conditions for her community. This need became more urgent as the workplaces of neighbors and friends continued to be affected by climate change. The immediate effects of climate change in his hometown, due to air, water and solid waste pollution accumulated after Hurricane Sandy, could not be ignored.
Taking action, Joseph spent time collecting testimonials and running workshops on workers' rights as a youth organizer with Make the Road NJ. These workshops targeted her people just like her: the local adolescent workers. Joseph recognized that the racial inequalities his peers faced in the workplace went hand in hand with the impacts of environmental racism. At a September 2020 rally for environmental justice, Joseph said that "environmental racism is rooted in hundreds of years of iniquity … we make do with it [this demonstration] attracts people's attention. Joseph aimed to educate others his age on this issue and empower them to take a stand against these nefarious norms. Joseph's background in popular activism well prepared her for national engagement in Washington DC
2. Nyaruot Nguany
Nyaruot Nguany's activism began locally, in his home state of Maine. There, she became one of the first youth organizers for the Maine Environmental Changemakers Network, "an intergenerational youth-led network that connects young Mainers (ages 15 to 30) from diverse backgrounds passionate about the environment with mentors, professional peer mentors in the sector ". As this network has grown over time, Ngyany's role as a leader has also grown.
Centering his work at the intersection of environmental education and racial justice, Nguany has a unique perspective as a child of two parents born outside of the United States. Her mother, from Kenya, and her father, from Sudan, were both farmers and raised their own food. Once in the United States, Nguany realized a harsh reality. She was surprised to find that not all Americans had access to community lands or gardens, or even that they did not understand what virtual resource land could be. For Nguany, land was essential for growing his own food. It was also essential to preserve green spaces for the game.
His family story inspired his activism related to BIPOC individuals' access to land for agricultural and recreational purposes.
Growing up in Maine, Nguany told NowThis she experienced 'waking up' overtime because she realized she rarely saw people like her working in the outdoor and outdoor industries. the environment. This diversity gap, associated with the costly nature of outdoor recreation, prompted Nguany to want to become a leader in this space. She hopes that by providing representation, she will encourage future generations to seek opportunities in the industry and enjoy the joys of the outdoors.
3. Nia Smith
On the West Coast, Nia Smith challenges Los Angeles fashion and design veterans to see sustainability from a whole new perspective. Smith, an architecture student at Los Angeles Trade Technical College, aims to work at the junction of "the housing, climate and POC youth crisis in design." This goal is fueled by his belief that "one of the most important tasks of an architect is to design spaces with people and the environment at the heart". Smith took this responsibility seriously, planning peaceful protests, leading eco-responsible initiatives on campus, and engaging with local government officials. One of the most important topics fueling his activism at the local level is the lack of knowledge of the history of indigenous peoples' lands in his community.
Smith hopes to sensitize those around him to the "danger [that] over-consumption "can pose to this territory. Her work as an environmental activist and community organizer continues to grow along with her passion for the intersectional nature of this movement.
And despite this busy schedule, she still finds time to do what she calls "grandma's crafts": sew and knit some of her own clothes.
4. Jérôme Foster II
One of Washington DC's foremost climate advisers is only nineteen.
Jerome Foster II is currently the youngest member of the White House Advisory Council on Environmental Justice. Additionally, Foster II addressed the Office of the United Nations High Commissioner for Human Rights, where he met with world leaders to discuss climate change. His interest in the climate justice movement focuses on environmental law, in particular on decarbonization. As he became educated in this area, Foster grew to believe that environmental justice cannot be achieved without the massive mobilization of young voters. To address this, Foster II founded OneMillionOfUs, an international coalition of young voters organized around five global issues: gun violence, climate change, immigration reform, gender equality and racial equality. Its objective is to educate, energize and attract a million young people to the polls to vote in their country's elections.
Foster II also founded an international climate news outlet called the Climate Reporter to educate peers around the world on the most important issues of their time, Foster II founded an international climate news outlet, the Climate Reporter. This point of sale is run by young writers from eleven countries.
In addition to this busy portfolio of work, Foster II continues to seize as many opportunities as possible to lead in this field; he was an Icelandic National Geographic explorer, he led Greta Thunburg's Fridays for Future School Strike movement to the White House, and he organized a 10,000-person climate march in Washington DC
5. Dillon Bernard
Dillon Bernard harnessed the power of digital and social media in ways other members of his generation have yet to understand. Using these platforms as a "revolutionary tool," Bernard has become one of the best digital strategists, advising on social justice movements and empowering young storytellers of color. His expertise has led him to manage major campaigns, such as the 2019 US Climate Strikes, Earth Day Live, and the #VoteWithUs early voting mobilization initiative. While balancing his studies as a journalism and design student at the New School of New York, Bernard works tirelessly to advise and amplify marginalized voices to take control of their own narratives. By focusing on content that contributes to conversations about diversity and representation, Bernard aims to advance like-minded goals. While he recognizes that he does not have the personality to be "on the front line of demonstrations", Bernard is making a significant impact in his own way.
[ad_2]