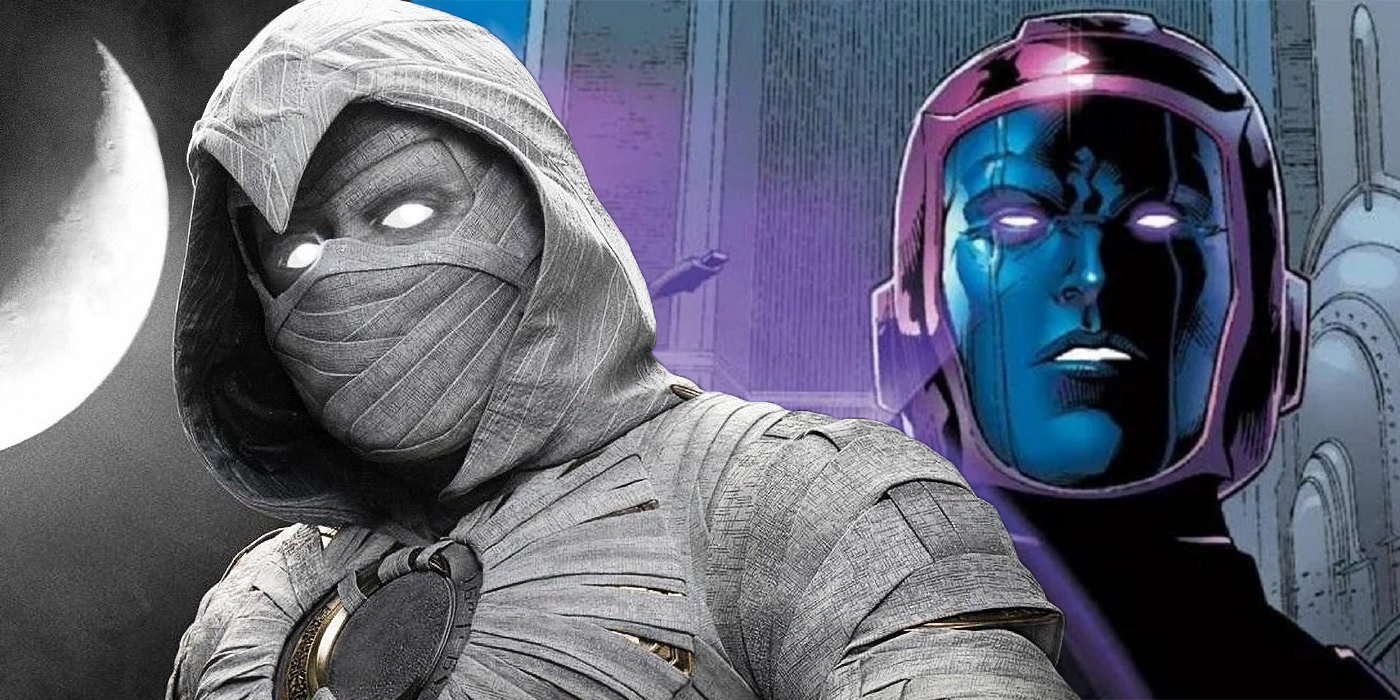 Moon Knight originally had a line of dialogue that referenced a variant of Kang the Conqueror. The decision to drop it ignored what MCU fans want.
moon knightThe creative team of ignored what mainstream MCU audiences appreciate most about Marvel projects by cutting out a reference to Kang the Conqueror that would have quietly connected the series to the larger MCU. Marvel Studios' sixth Disney+ series introduced two exemplary characters – the complex new superhero, Marc Spector/Steven Grant/Moon Knight, and the first Egyptian superhero, Layla El-Faouly/Scarlet Scarab. Its deep character-driven storylines have been vastly improved moon knight, but he felt entirely disconnected from the MCU. While the series benefited from a lack of superfluous cameos, interwoven Easter eggs or references could have enhanced its impact.
LokiThe Season 1 finale introduced audiences to Jonathan Major's character, He Who Remains. The character's ominous warning of a multiversal war and the release of his other"less pure of heart"variants hinted that the series would have a huge impact on Phase 4 and beyond. When Remainer told Loki and Sylvie, "I have been nicknamed by many names. A ruler, a conqueror…"he revealed two possible variants that could appear. The "conqueror" it refers to the evil villain Kang the Conqueror, who will appear in Ant-Man and the Wasp: Quantumania. The "ruleris a variation known as Pharaoh Rama-Tut, which was to be referenced in the Egyptian-story-laden Disney+ series moon knight.
Related: Marvel Theory Reveals Kang Variant Already Exists In MCU History
Moon Knight the decision not to refer to Rama-Tut weakens both Moon Knight and by Loki overall impact and their contribution to the global building of the Marvel Cinematic Universe. During a recent interview, writer and executive producer Jeremy Slater confirmed that a line referencing the Kang the Conqueror variant was intended to be in Moon Knight: "While Steven is telling a bit of Egyptian history…he mentioned Rama-Tut." However, this line of dialogue was cut off during editing, which is a shame. A predominant reason why audiences are so invested in the MCU is due to the interconnectedness of all the projects and its massive global build. The potential of one project affecting the next gives each film and TV show even more weight and emotional impact. While moon knight was a great character story and still thrived even without any references, it felt pretty pointless when it came to the lack of effect it had on the larger MCU. Had they left Steven's quick reference to Rama-Tut, aka Kang the Conqueror, on the show, it would have confirmed Steven's biggest MCU impact. by Loki final while connecting moon knight to the wider world.
Other than Wanda Vision, Phase 4 projects have largely felt disconnected from the larger MCU. Shows and movies may mention characters or events from project to project, but they lack cause-and-effect ramifications. The result is that Phase 4 felt a bit like a creative free-for-all. Marvel Studios throws everything at the wall to see what sticks without connecting anything. Considering more than half of moon knight took place in Egypt, not to mention Pharaoh Rama-Tut is a mind-boggling wasted opportunity. Since by Loki finale, there were no whispers of variants of Kang and the events of Loki apparently did not affect any of the cross-functional projects. While the finale hinted that the show would have far-reaching consequences for Phase 4 and beyond, the lack of references with every passing project makes the Loki the series seem increasingly insignificant.
Although Rama-Tut not being included in an Egypt-oriented project was bizarre, not including a multiversal threat like Kang the Conqueror in Doctor Strange in the Multiverse of Madness was maddening. Not only Loki does not affect the multiverse movie, but neither Spider-Man: No Coming Home. The events of the Spider-Man movie might have been mentioned in offhand commentary, but there were no causal consequences to Dr. Strange's multiversal mishap. This continues the problems of Phase 4 projects completely disconnected from each other despite Marvel Studios emphasizing the multiversal aspect and the giant impact on the MCU. And now, moon knight missed an easy opportunity to subtly tie parts of everything together. Fascinating visuals and jaw-dropping cameos won't distract mainstream audiences from building the MCU's crumbling interconnected world, but hopefully the MCU gets back on track.
Next: How Kang Is Different From Thanos (& What It Means For Avengers 5)
Thor: Love and Thunder (2022)Release Date: Jul 08, 2022
Black Panther: Wakanda Forever/Black Panther 2 (2022)Release date: November 11, 2022
Ant-Man and the Wasp: Quantumania (2023)Release date: February 17, 2023
Guardians of the Galaxy Vol. 3 (2023)Release date: May 05, 2023
Marvels/Captain Marvel 2 (2023)Release date: July 28, 2023
Vampire Diaries: Undoing Legacies Explained in New Report