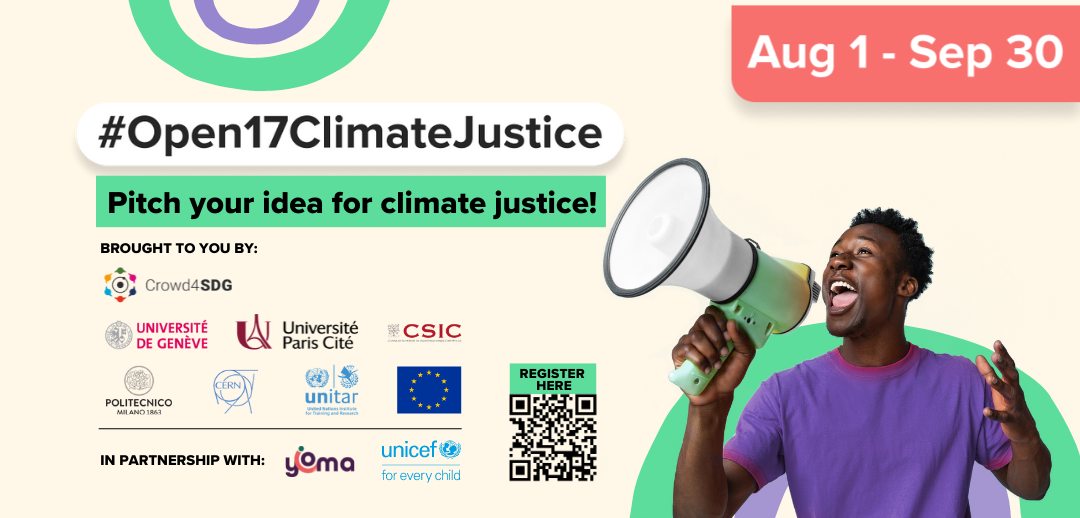 Deadline: September 30, 2022
Applications are open for the Open17 Climate Justice Challenge 2022. Are you passionate about climate justice and have a project or idea for a solution that supports the preparation of individuals and communities for climate change? Then pitch your idea, prototype or project that tackles specific climate justice challenges using crowdsourced solutions.
Climate change affects us all, but not in the same way. This will likely lead to inequalities within and between nations and between current and future generations. Climate justice is a term used to define global warming as an ethical and political issue, rather than a purely environmental or physical issue.
They are interested in ideas for solutions that will help increase the climate change preparedness of all people around the world, and especially the most vulnerable. By using non-traditional data sources, such as social media, to provide evidence on problematic and/or critical situations, you can influence national and regional policies.
Advantages
Open17 Challenge applicants can be rewarded for their participation in the challenge in two ways:
Weekly prizes of €100 for the best pitches submitted to the Challenge on the Goodwall platform (August-Sept 2022) evaluated by two members of the Crowd4SDG consortium, or…
Travel and accommodation to attend a conference in Geneva (March 2023), to present projects that have successfully completed the GEAR innovation cycle, based on the decision of a jury comprising both consortium members and external members.
Up to €2,500 will be dedicated to weekly prizes in August-September, for pitches submitted on the Goodwall social network. Up to €7,500 will be allocated for travel and accommodation for members of the top two teams to attend the conference in March.
Eligibility
Open to anyone anywhere in the world;
Candidates must be at least 16 years old;
Entries must be in English and entrants must have a good command of written and spoken English.
Selection criteria
The criteria for selecting your idea are novelty, relevance, feasibility and appropriate use of crowdsourcing:
Novelty – your argument must relate to your idea. Describe a specific challenge you want to solve in your community rather than general issues.
Relevance – your idea must address climate justice, helping those most vulnerable to climate change to build resilience in their communities
Feasibility – Be ambitious but realistic: your idea should be something you could achieve with the help of a few like-minded people.
Crowdsourcing – Explain how you will engage more people to help make your idea a reality by collecting data or taking collective action.
These selection criteria will be used at all stages of the Open17 Challenge, and in particular to select individual applicants for prizes of €100 from August to September 2022, and to cover members' travel and accommodation costs. of the best teams invited to participate in the conference. in Geneva in March 2023.
Application
Register on the Goodwall social network (goodwall.io)
Visit the #Open17ClimateJustice Challenge page on Goodwall
Click on "Participate" and select "Share a post"
Record and upload a one-minute video pitch about your idea
In the title of the post, be sure to add the hashtag #Open17ClimateJustice
The application deadline is September 30, midnight CEST
Be sure to provide a valid email address on your Goodwall page, when you register with Goodwall, for follow-up contact.
For more information, visit Open17 challenge.