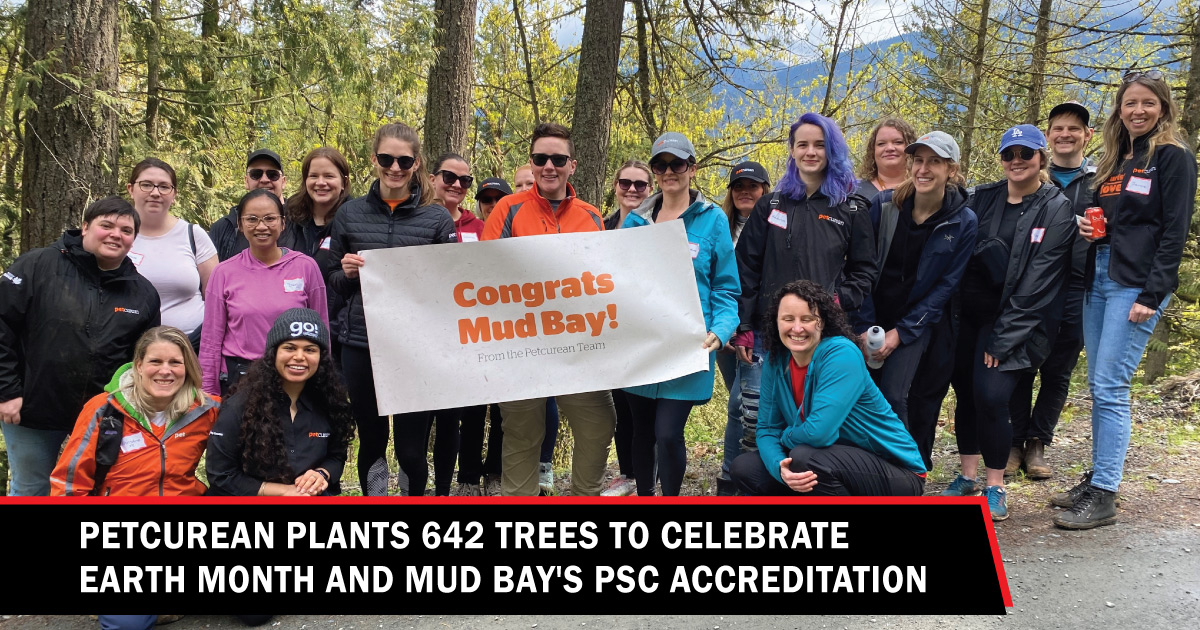 To celebrate this achievement and mark Earth Month, Petcurean will plant 642 trees in Mud Bay's name, one tree for each Mud Bay employee, or "Muddie".
Petcurean, a producer of premium pet food brands GO! SOLUTIONS! and NOW FRESH, which are available in more than 35 countries worldwide, are delighted to congratulate Mud Bay, a family and employee owned pet store in the Pacific Northwest and long-time retail partner date from Petcurean, for their recent Pet Sustainability Coalition (PSC) Accreditation.
April 29 marked the 150th anniversary of arbor day, a national day dedicated to celebrating the importance of planting trees. Each tree planted is a substantial nature-based solution to restoring our ecosystem, including reducing greenhouse gas emissions to combat climate change and improving biodiversity and forest resilience. As part of Petcurean's ongoing commitment to sustainability, the company has planted a total of 1,017 trees to date.
As a premium pet food manufacturer, Petcurean recognizes the importance of being a leader in sustainability, strives to incorporate more sustainable business practices, and partners with like-minded companies. same ideas to help create a more sustainable world for pets, people and the planet. The company has been a member of the Pet Sustainability Coalition since 2017 and wholeheartedly believes in the PSC's vision of a collaborative pet industry that creates positive impact for the communities and environments where it does business, and to its mission to advance business through environmental benefits and social practices.
Additionally, through its GO! SOLUTIONS and NOW FRESH, notable sustainability initiatives that demonstrate this include:
Production of all wet food recipes in recyclable Tetra Pak cartons, made from 69% FSC certified paperboard
New equipment on packaging lines to reduce the amount of plastic needed to bundle small bags, saving 13,500 kg of plastic per year
Lighter plastic used to bundle small bags reduces energy consumption when shrink-wrapping, resulting in a reduction of 1,400 kg of CO2 emissions per year
Switching to MSC-certified marine microalgae oil to meet Petcurean's DHA/EPA requirements
"As passionate members of the PSC, we are delighted to congratulate Mud Bay on their recent accreditation," said Anabel Immega, Marketing Manager, North America, Petcurean. "Mud Bay is an extremely important part of our retail family, and we love working with an employee-owned company that shares our values ​​of keeping sustainability top of mind. We all play an important role in preserving our planet, and we are thrilled to plant 642 trees in recognition of Mud Bay's fantastic achievement! »
Petcurean is committed to being a sustainability leader for pets, people and the planet. As a forward-thinking company, Petcurean embraces the triple objective of sustainability, aiming to create environmental, social and economic value. The company's sustainability plan aligns with the United Nations' 2030 Sustainable Development Goals, and improvements and progress are being made in four areas of impact: protecting our planet, empowering our employees, building community and engaging in governance.
"We all have an important role to play when it comes to the sustainability of our planet. Last fiscal year, we released our first-ever sustainability impact report highlighting the accomplishments we were able to achieve collectively as a team, such as 150,000 kg of plastic saved and more than 1.6 million meals for pets donated to shelters in need," says Christine Mallier, Sustainability and Community Relations Manager, Petcurean. "We are thrilled to have our retail partners, like Mud Bay, join us in our collective sustainability efforts. Our pets and our planet need us to lead the way, and together we can have a greater impact when it comes to creating a more sustainable world.
To learn more about Petcurean's commitment to sustainability, visit https://www.petcurean.com/sustainability/.
About Pet Curean
Petcurean is a proudly Canadian company that creates premium pet food recipes; TO GO! SOLUTIONS™, NOW FRESH™ and GATHER™ for dogs and cats (and cats and dogs). Petcurean pet foods are sold exclusively through specialty pet retailers in Canada, the United States and more than 35 countries internationally. At Petcurean, with every decision we make and every recipe we create, we put pets first. Please visit www.petcurean.com to learn more.
About Mud Bay
Founded in 1988 in Olympia, Washington, Mud Bay is the Pacific Northwest's largest retailer focused on healthy, natural dog and cat food. With 60 locations across Western Washington and Oregon, Mud Bay is an employee-owned company that helps dogs and cats thrive through personalized nutritional recommendations and pet supply selections based on on solutions. For more information on Mud Bay, visit mudbay.com.