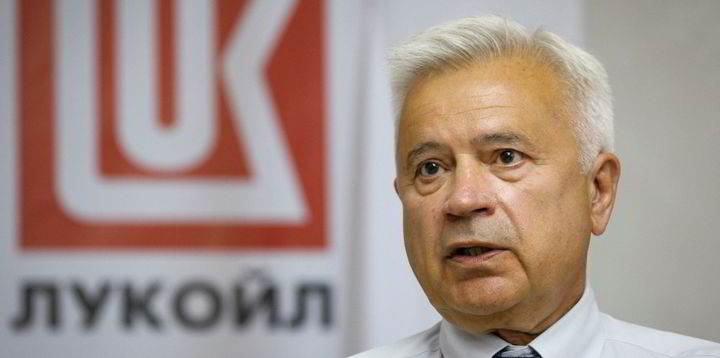 The former chairman and longtime founder of Russia's largest private oil producer Lukoil, Vagit Alekperov, has pledged to fund social projects in the country after announcing his resignation from the company last week.
Alekperov was quoted by Russia's Interfax news agency as saying he decided to distance himself from Lukoil after he was personally sanctioned in the UK and Australia, with his assets in those countries set to be frozen.
"I don't hold any controlling stake in the oil producer," he said. Lukoil can continue to develop its business without its involvement, he added.
According to the company's latest disclosures, Alekperov remains Lukoil's largest shareholder, holding a combined stake of more than 28% directly and indirectly, followed by his close associate, company vice-president Leonid Fedun, with around 10%.
Based on Lukoil's market capitalization this week, Alekperov's stake was worth about 771 billion rubles ($10 billion), nearly half its value since February 24, when the Russian military entered in Ukraine.
Alekperov added that he would stay in Russia because he is a "patriot of the country".
The article continues below the ad
Alekperov, now 72, had led Lukoil since its inception in 1993 based on three major oil production units in Western Siberia – Langepasneftegaz, Urayneftegaz and Kogalymneftegaz.
Lukoil said in a statement that the company's vice president, Vadim Vorobyev, has been appointed ad hoc chairman of the oil producer until May 30, when the company must hold an emergency general meeting of shareholders to elect a new leader.
Although the oil company called for a diplomatic solution to the war in Ukraine in March, Alekperov personally commemorated members of the Russian Olympic ski team in April who expressed public support for the Russian invasion – officially described at Moscow as a "special operation". , not a war.
Against other major Russian oil producers, Lukoil has the greatest international exposure, with upstream projects ranging from Kazakhstan and Uzbekistan to Africa and Mexico.
The company has yet to assess the impact of far-reaching Western sanctions on its business model which calls for gradually expanding its upstream exposure outside the country, focusing on natural gas projects.
However, according to a Russian law passed last week, the oil producer will have to delist its shares – traded internationally – by May 5.
Lukoil may choose to seek a waiver of the law from the government's Foreign Investment Control Commission, according to international consultancy firm Morgan Lewis.
Russian authorities have imposed strict limits on the information oil producers can disclose to their minority investors, with Lukoil's compatriot, the country's largest independent gas producer Novatek, having already announced that it will not publish its report. first quarter financial statement and would hold a traditional conference call.