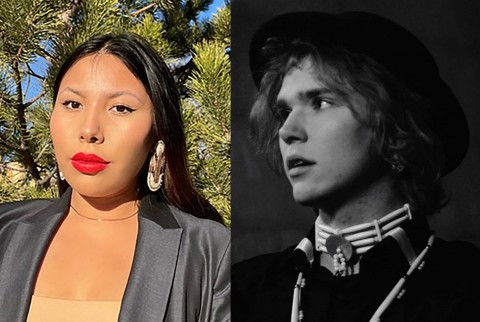 Two Northwestern University undergraduates – Isabella Twocrow and Kadin Mills – have received national recognition from the Morris K. and Stewart L. Udall Foundation, a federal agency that supports studies in fields related to the environment, tribal public policy and Native American health care.
Twocrow is the first-ever recipient of Northwestern's Native American Congressional Internship from Udall. The Udall Foundation and the Native Nations Institute for Leadership, Management and Policy select 11 students each year to spend a summer in Washington, D.C. Students in the program work alongside Native American and Indigenous policymakers to gain hands-on experience with the federal legislative process to understand the relationship between Native tribes and the US federal government.
Mills was awarded the 2022 Udall Undergraduate Scholarship, which is awarded to students for leadership, public service, and commitment to issues related to Native American nations or the environment. Northwestern's first-ever Indigenous recipient of the Udall Scholarship, Mills will dedicate the $7,000 scholarship towards tuition, housing and other expenses while completing her studies. In August, Mills will also join fellow Udall Scholars and alumni at the annual Udall Scholars Orientation in Arizona, where he will meet with community leaders in the fields of environment, tribal health care and governance. .
Both Twocrow and Mills are Native American students at Northwestern, where they are very active in the Center for Native American and Indigenous Research (CNAIR) and the Native American and Indigenous Student Alliance (NAISA).
"These awards are the most prestigious of their kind," said Patty Loew, founding director of CNAIR and professor in Medill's School of Journalism, Media and Integrated Marketing Communications. "We are so proud of them. Their selection is a good reflection of Northwestern's efforts to promote Native American research, teaching and outreach.
Isabelle Two crows
A member of the Ho-Chunk Nation and co-chair of NAISA, Twocrow is a junior, studying learning and organizational change in the School of Education and Social Policy, with a minor in Native American and Indigenous Studies. After graduation, Twocrow plans to work in education policy to help reform tribal education systems, ensuring that Native American and Indigenous students have equitable access to education. Higher Education. She discovered this passion in high school, while navigating the college application process. Now, Twocrow works in undergraduate admissions as a student outreach coordinator for Native American and Indigenous students and as a project management aide in the Office of Institutional Diversity and Inclusion, where she is currently co-designing a "Native 101" workshop for the campus community. .
"It is important to defend our sovereignty and our treaty rights. I want to protect the rights of our people to land, water, health care and education." —Isabelle Twocrow
"I am honored and privileged to have received this internship in DC with the Udall Foundation and look forward to exploring, experimenting and learning more about tribal public policy," said Twocrow. "I am beyond grateful to have this opportunity and cannot thank you enough for the support I have received here at Northwestern – from NAISA, CNAIR, and other Native American and Indigenous teachers."
With the Udall internship, she hopes to gain research and networking skills while working for the federal government. These skills will help prepare him for a future career in law and politics.
"With my North West degree and the knowledge I gained from the Udall internship, I hope to serve tribal nations, including my own, the Ho-Chunk Nation," Twocrow said. "It is important to defend our sovereignty and our treaty rights. I want to protect the rights of our people to land, water, health care and education. The education of our young people, in the Indigenous way, is essential to rebuilding and sustaining our Indigenous nations, and I hope my work at Northwestern and DC can help in any way."
Kadin Windmills
The first descendant of the Keweenaw Bay Indian community, Mills is a sophomore in journalism at Medill and Native American studies at Weinberg College of Arts and Sciences. He is passionate about social and climate justice – and advancing these causes through literature, storytelling and culture. On campus, Mills writes for the Daily Northwestern and serves as communications manager for NAISA.
When Mills learned he had been awarded the Udall Fellowship, he and Loew were visiting the Poarch Creek Reservation in Mobile, Alabama as part of a National Science Foundation-funded climate change project.
"When I learned that I was chosen, we shouted with joy in the court." — Mills of Kadin
"I'm thrilled to have been chosen for the Udall Award in Michigan," Mills said. "When I learned that I had been chosen, we cheered in the courtyard of the Tribal Administration buildings of the Poarch Band of Creek Indians. I will always remember that and the lunch we had in celebration. From then on Patty introduced me as the "New Udall Scholar". I thank the Northwestern Indigenous community and my loved ones for pushing me and believing in me.
In her spare time, Mills enjoys engaging in the arts – including singing, musical theatre, playing the saxophone, sewing and bead making. He is committed to pursuing a career related to tribal public policy.