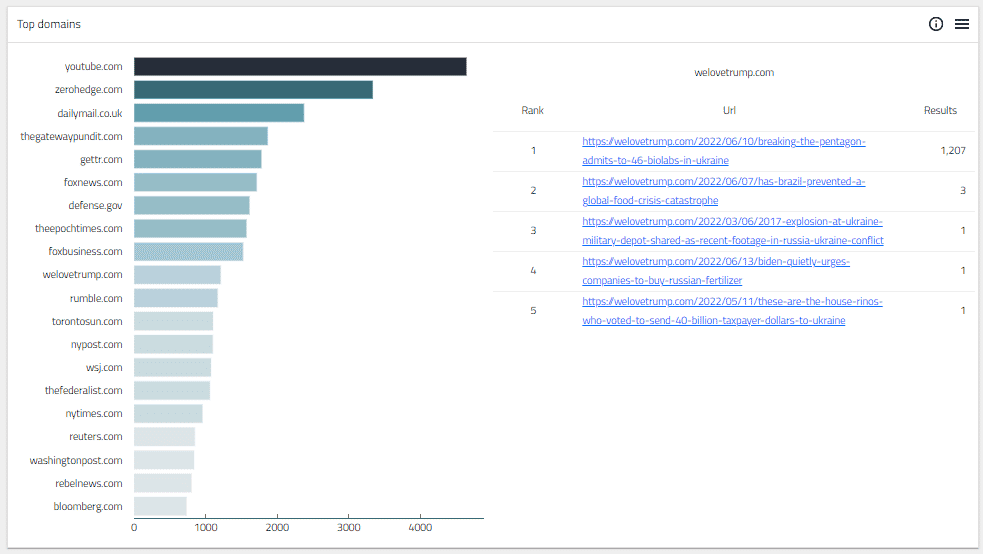 3 large blocks of criticism and dissatisfaction emerge. Russian state media and official Russian Embassy accounts are highly influential in one community, while conservative American political figures are spreading unsubstantiated allegations and conspiracy theories in another.
3 community nuclei emerge, expressing criticism and negative feelings. These communities represent almost 1/3 of the users involved in the global debate:
American dissatisfaction (13.2% of users)
International dissatisfaction (10.9% of users)
Dissatisfaction in the UK (7.1% of users)
The US Discontent community is primarily driven by conservative US political figures who distribute a wide range of alternative media content. Key players include Donald Trump Jr., political influencer Kimberly Guilfoile, Congresswoman Lauren Boebert, former Trump aide Stephen Miller, political influencer Charlie Kirk, conservative media commentator Ben Shapiro and others . Among the most widely shared domains in this community are alternative media sites, including Zero Hedge, The Epoch Times, The Gateway Pundit, Rebel News, and WeLoveTrump.com. Recurring narratives promoted by many of these actors include corruption allegations against Democratic officials like Hillary Clinton, Barack Obama and Joe Biden, as well as the Ukrainian biolab conspiracy theory.
In the second largest community generating negative/critical sentiment in the debate, Russian state media, Russia Today (RT) and the official account of the Russian Embassy in the UK are among the most relevant profiles. The accounts of this community mix historical-political criticisms against NATO and the United States with more blatant conspiracy theories, such as the claims of Ukrainian biological laboratories. Allegations of Nazi influence and undemocratic governance in Ukraine persist. The third largest community driving discontent is targeted at economic and political issues in the UK