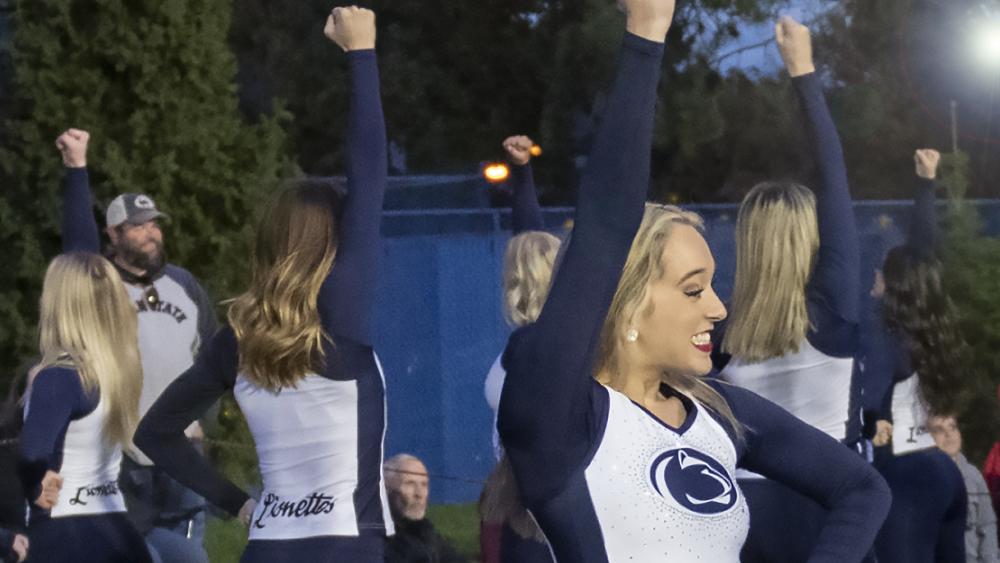 UNIVERSITY PARK, Pa. — Penn State's 2022 Homecoming Week will be held Oct. 16-22, culminating with the Homecoming Parade on Friday, Oct. 21 and the Homecoming Football Game against Minnesota on Saturday, Oct. 22.
A variety of events are planned throughout the week to celebrate Penn State pride and tradition and engage students, alumni, faculty, and staff. The grand marshal for this year's Homecoming is Nittany Lion wrestler great David Taylor, and the honorary grand marshals are Penn State President Emeritus Eric Barron and Molly Barron.
Additional details on the week's events are available at homecoming.psu.edu.
TUNA 5K – 8 a.m., October 16, Bryce Jordan Center. The annual THON 5K powered by PNC will be held in person and virtually. Register today and join the Penn State and THON communities in the fight against childhood cancer.
Allen Street Jam — 1 p.m. to 7 p.m. on October 17, Allen Street. Stop by Allen Street between Beaver and College Avenues for a street fair featuring food, games, live music, performances and more.
past to present — 11 a.m. to 4 p.m. October 18, HUB-Robeson Center. Enter the HUB and be greeted by a living history museum. Learn about the history of some of Penn State and State College's most pervasive organizations and watch performances.
Grand Marshal Questions and Answers — 6-7 p.m. October 18, Freeman Auditorium, HUB-Robeson Center. This Q&A style event, held in conjunction with the Blue and White Society, is an opportunity for current students to ask questions of Homecoming 2022 Grand Marshal and former Nittany Lion wrestler great David Taylor.
FTG Talent Show — 7 p.m. on October 18, Schwab Auditorium. Homecoming will host a talent show to showcase organizations and individuals with great talent. Come be a part of it or watch the amazing performers in action.
Best of Penn State Carnival – 2 p.m. to 7 p.m. on October 19, HUB Lawn. Come ride the rides, play the games and have a good time.
Homecoming/Opulence Drag Show — 8:30 p.m. October 19, Alumni Hall, HUB-Robeson Center. Penn State Homecoming is thrilled to partner with student group Opulence to host their second annual drag show. Opulence is Penn State's premier drag ambassador group. Come for a fun evening of performances.
Pride in our Pep Rally community — October 20, monumental staircase, HUB-Robeson Center. The Cheer Rally celebrates the diversity of Penn State's student community through performances by different cultural organizations. Come celebrate cultural differences through dance, spoken word and community gathering.
Ancient Ice Cream – 1 to 3 p.m. on October 21, Hintz Family Alumni Center. The Ice Cream Social is an event to which all Penn State students, alumni, and community members are invited. Penn State Berkey Creamery ice cream will be served with music, performances by Alumni Blue Band and a cash-only Homecoming merchandise sale. The event helps welcome alumni back to campus for the weekend while building Penn State pride ahead of the homecoming parade. Registration is free but mandatory and walk-in registrations will be accepted. Sign up for the Ice Cream Social here.
return parade – 6 p.m. Oct. 21, Across Campus and Downtown State College. The theme for this year's Homecoming Parade is "One Community, One Home Forever". Celebrate one of Penn State's oldest and most famous traditions that keeps alumni, students, faculty, and staff connected.
Guard the lion shrine — 7:30 p.m. to 10 p.m. on October 21, Nittany Lion Shrine. Members of Penn State's Army ROTC program stand guard and protect the symbol of our best. At the event, there will be free food, including popcorn and funnel cakes, photo opportunities with the Nittany Lion, and a variety of games and activities to earn prizes. gifts and prizes. Live entertainment will be present throughout the night, including the drum line from the Penn State Blue Band.
Back-to-school football match — 7:30 p.m. on October 22, Beaver Stadium. The Homecoming football game will feature a Penn State White Out and will be played against the Minnesota Golden Gophers. Come and watch the black and pink S-Zone, the "Generations of Greatness" jerseys and the presentation of the Homecoming Courts, Grand Marshals and much more.
Visit homecoming.psu.edu for details on this year's festivities.