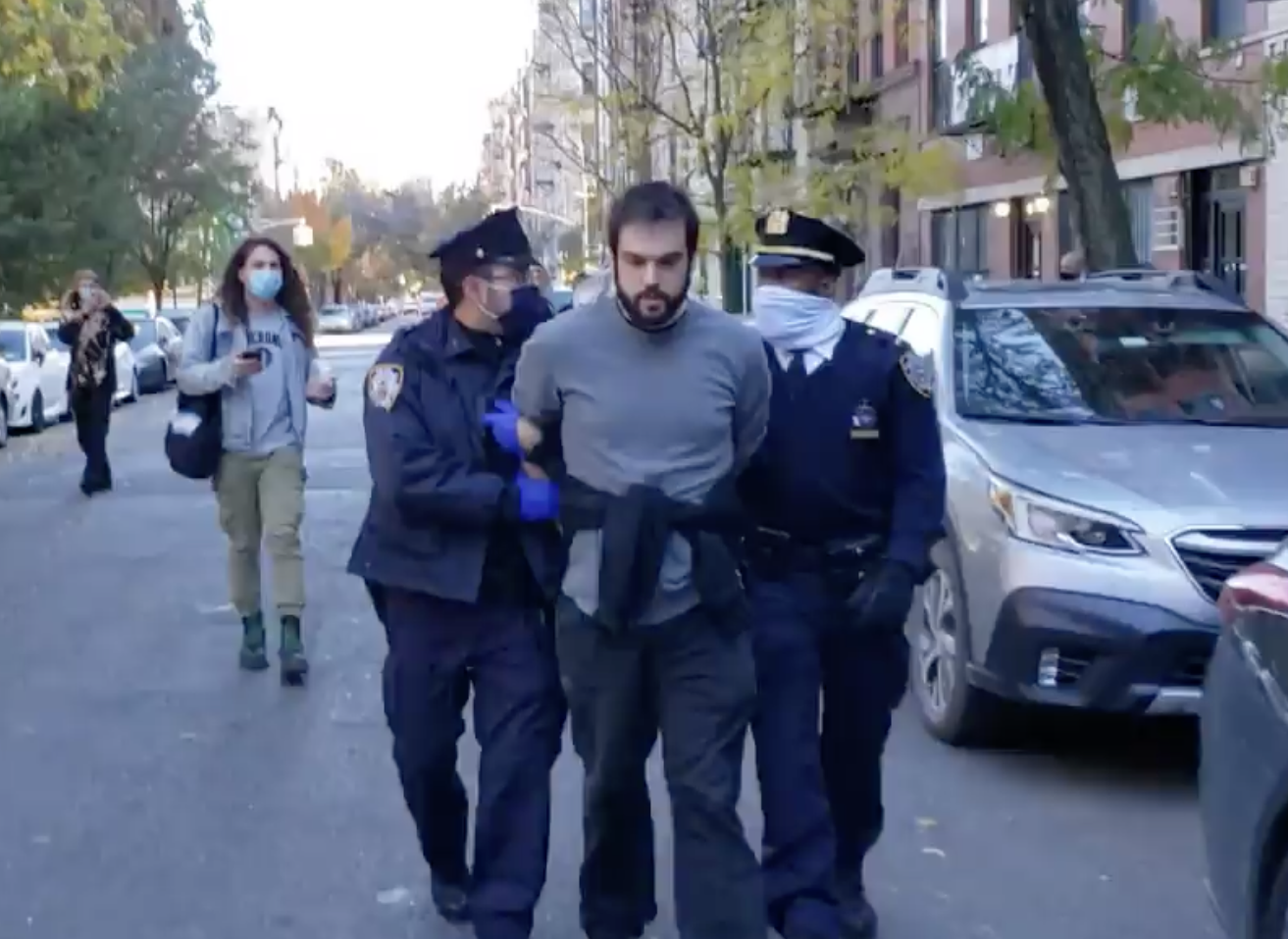 A video obtained by Newsweek showed that New York City Police (NYPD) officers arresting a homeless advocate who was helping people were allegedly kicked out of a Manhattan park by police last November.
"NYPD Lt. Jermaine Oden actually arrested Mr. [Derrick] DeMaria, a volunteer homeless advocate, announcing the arrest was for 'stealing' property in his possession," DeMaria's attorney Paul Mills said. Newsweek. "The property had just been turned over to Mr. DeMaria by NYPD patrol officers under the command of Lt. Oden, as evidenced by independent video and police body camera footage."
Mills said DeMaria was picking up property from homeless people in Tompkins Square Park in New York's East Village neighborhood on Nov. 10, 2021, later picking it up from a nearby storage facility to prevent the property from being destroyed by the police. In the video, NYPD officers watch as DeMaria takes the bedding away only to arrest her moments later on what Mills called "false charges."
According to the Coalition for the Homeless, there were 48,691 homeless people in New York City as of December 2021. The organization also reported that the number of homeless New Yorkers sleeping each night in municipal shelters is now 16 % higher than 10 years ago. .
Upon DeMaria's arrest, Mills said, the Manhattan District Attorney investigated the incident to find there was "no basis" for the arrest, resulting in the charges being dropped. loads.
"In this case, an NYPD lieutenant, who had previously been investigated for encouraging a patrol officer to submit a false report, appears to have encouraged or ordered another patrol officer to file a false arrest report" , Mills said. Newsweek. "When a city district attorney investigated, they found no basis for the arrest and dropped the charges."
DeMaria said he plans to sue the city over the arrest. The lawsuit, according to Mills, will seek $225,000 in damages, punitive damages and attorneys' fees.
When Newsweek contacted the NYPD regarding body camera footage and a statement regarding the situation, the following comment was posted:
"We will reconsider the lawsuit if and when we are served," the statement said.
The mills said Newsweek that this situation justifies questions about the city's police practices. He said there are serious problems with using an alleged false report as a way to punish those "who engage in activities that New York City wants to stop."
"Even those who want homeless people to clean up the area should agree that breaking the law, destroying private property and making false arrests are neither necessary nor appropriate to clean up a sidewalk," Mills said. Newsweek. "Not in New York. Not anywhere in America."
Newsweek contacted the Manhattan District Attorney's Office who declined to comment.